Lennon bomb plot pair Muirhead and McKenzie fail to overturn convictions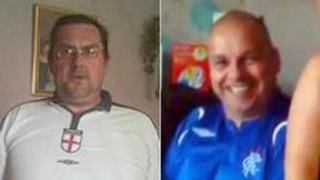 Two men jailed for sending suspect packages to Celtic manager Neil Lennon and two high profile fans have failed in a bid to overturn their convictions.
Trevor Muirhead, 44, and Neil McKenzie, 43, were found guilty of conspiracy to assault Mr Lennon, former MSP Trish Godman and the late Paul McBride QC.
They were each jailed for five years.
Appeal judges ruled the jury in their trial was entitled to find them guilty for sending devices they believed could explode and cause injury.
The parcels were posted in March 2011 in the aftermath of a confrontation between Mr Lennon and Rangers' manager Ally McCoist during an Old Firm game.
Poor evidence
Lawyers for Muirhead, from Kilwinning, and McKenzie, of Saltcoats, have been trying to overturn their convictions at the Court of Criminal Appeal in Edinburgh.
They claimed the North Ayrshire men suffered a miscarriage of justice because the packages sent were obviously hoaxes.
The lawyers told the appeal court that trial judge Lord Turnbull was wrong to reject a legal challenge which claimed there was not enough evidence to show the men believed the packages were capable of exploding.
They also claimed the evidence was of such poor quality that no reasonable jury would have found the men guilty.
The Crown said the convictions should stand even if the devices were incapable of detonating.
In a written ruling, Lord Menzies, sitting with Lady Clark and Lord Philip, noted that McKenzie had bought digital watches and plastic boxes to make the devices and Muirhead had acquired the peroxide.
Both men had used the word "bomb" in their conversations.
What was to be made of this and other evidence, the judges said, was "a classic jury question".
Their ruling said the jury was entitled to find that each man had been party to an attempt to create an explosive substance and that each believed the parcels were improvised explosive devices capable of igniting or causing injury.