Lynda Spence case: Ex-accused in tears during torture claims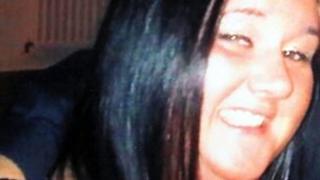 One of two men cleared of killing Lynda Spence has sobbed as he told a murder trial she was tied to a chair for 13 days and repeatedly tortured.
David Parker, 38, and Paul Smith, 47, had pleas to lesser charges accepted by the Crown last week.
Under cross-examination at the High Court in Glasgow, Parker said that Ms Spence had the tip of her pinkie finger cut off along with her thumb.
Philip Wade and Colin Coats, both 42, deny murdering Ms Spence in April 2011.
Smith and Parker had their pleas of not guilty to murder accepted by the Crown when they admitted assaulting Ms Spence and attempting to defeat the ends of justice.
Both men will be sentenced at a later date.
Parker claimed that he and his friend, Smith, were recruited by Mr Coats and Mr Wade to guard the financial adviser, who remains missing, at his flat in West Kilbride.
'Too scared'
He broke down and repeatedly wiped tears from his eyes and nodded after Solicitor General Lesley Thomson QC asked him: "Are you thinking about what happened to Lynda Spence?"
Parker, who claimed in evidence that he was too scared of Mr Coats and Mr Wade to get help for the woman or contact the police, told the jury that the two men came to his flat accompanied by Ms Spence and went upstairs.
He said that, when the two men came down half an hour later, Mr Coats told him that Ms Spence was not allowed to go to the toilet and that he and Smith were not to speak to her.
Parker said he went upstairs, where he found the woman taped to a leather chair, and that he later heard Ms Spence being beaten.
"She just said she wished she hadn't got herself into this mess," he said. "I told her to tell these guys what they want to know and get it finished."
Parker told the court that he saw a burn mark on her right hand and added: "You could see the steam holes burnt into her hand."
He said that, on one occasion, Mr Coats came alone and in a bad mood: "He said 'I'm taking her thumb' and produced a plastic bag out of his pocket and then said again 'I'm going to take her thumb'."
'Thumb taken'
Parker claimed he could hear Ms Spence crying out and shouting "no, Colin" before Mr Coats came down gesturing to his pocket.
"Miss Spence was still taped to the chair and there was just nothing where her thumb should be," he said.
"It was her right hand. She said that he had taken the thumb."
Parker said that Mr Wade and Mr Coats both arrived the next day and told him and Smith they could go.
"She wasn't too good," said Parker when asked about Ms Spence's condition at that point. "She was battered and bruised. She had the tip of her pinkie finger cut off and her thumb and her toe crushed."
Earlier, Smith denied concocting a story with Parker to implicate their former co-accused.
Smith said that Ms Spence was taken to Parker's flat on 14 April 2011 under the pretence that it was to be used as a safe house for her as she owed money to people who wanted to hurt her.
'No escape'
He told the court that Ms Spence was held in the attic of the property in Meadowfoot Road, West Kilbride, Ayrshire, for 13 days.
Smith denied that he had told the two accused that Ms Spence had disappeared on 26 April while both were away from the flat.
He insisted there had been no sign of an attempt to escape and that there had been no request to escape.
Derek Ogg QC, defence lawyer for Mr Coats, said: "Lynda Spence could convince anybody of anything. A fantastic liar, a charismatic personality.
"She never on an occasion set out to persuade you to assist her? It makes no sense.
"She had these skills, why didn't she use them?" Smith said: "It's the truth."
The trial before Lord Pentland continues.