Clean-up operation removes graffiti from Dumbarton Rock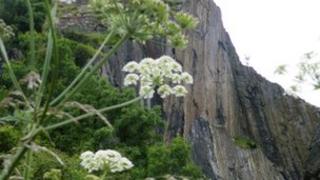 Work has been completed to remove graffiti from one of Scotland's best-known climbing venues.
Specialist contractors have cleared spray-painted imagery and writing from the lower parts of Dumbarton Rock.
Local climbing groups and the Mountaineering Council of Scotland were consulted to ensure delicate handholds on the rockface were unaffected.
The work was commissioned by Historic Scotland as the rock is classed as an ancient scheduled monument.
Joann Russell from Historic Scotland said: "Dumbarton Rock is a major landmark and focal point for the local community. It also has a significant place in Scotland and Britain's history.
"Despite its protection in law, it has not deterred graffiti defacing the rock. This has become an issue for us and, understandably, it is a concern for the local community.
"We are committed to protecting the rock and ensuring its natural look is restored in a sensitive manner that will not affect the rock's fabric."
Andrea Partridge, from the Mountaineering Council of Scotland added: "Dumbarton Rock is recognised throughout the international climbing community as having some of the hardest climbing and boulder problems and it has played a significant role in the development of climbing.
"The council is pleased to be working in co-operation with Historic Scotland and local climbers to improve the appearance of the area.
"Through close liaison with the contractors we ensured that the climbing heritage was protected and safety for all users is improved."