Arrests made as Green Brigade protest is broken up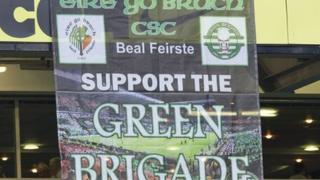 Thirteen arrests have been made after police moved in to break up what they said was an unauthorised march by the Green Brigade group of Celtic fans.
Almost 200 officers were deployed to the gathering outside the Chrystal Bell pub in Glasgow's Gallowgate.
Police said the crowd "appeared to be attempting to stage an illegal street procession and officers were deployed to prevent this".
The arrests were made for alleged public order offences.
The Green Brigade had posted on its website ahead of the protest that it would be holding a "corteo to Celtic Park to raise awareness and show support for the growing list of Celtic supporters receiving and facing bans" from both the Scottish Premier League football club and the procurator fiscal.
It warned those taking part that police would "use every and any excuse to instigate trouble".
Strathclyde Police said many of the people at the pub "were wearing similar hooded tops and using scarves to hide their identities" at about 13:00.
Mounted officers
"The crowd were instructed that any procession on the road was illegal but that officers would facilitate a safe and orderly procession on the pavements toward their intended destination at Celtic Park," said a statement.
"However, this was ignored and more officers were deployed as the crowd became increasingly confrontational and aggressive.
"The situation was contained a short time later. CCTV and helicopter footage was captured and will be studied as part of the investigation."
Officers, including mounted personnel, who had already been deployed to deal with a number of planned events across the city had been diverted to deal with the incident.
Celtic manager Neil Lennon has previously praised the Green Brigade for the atmosphere they create inside the stadium but also urged a minority to stop singing pro-Irish Republican songs.
Ahead of the protest before the home match against Aberdeen, the Green Brigade said: "It is no secret the level of harassment many fans receive at the hands of Strathclyde Police.
"Nor is Celtic plc's complicity able to be ignored. As such, there is an ever-growing list of fans being denied their passion of following their team.
'Ongoing harassment'
"Unlike previous corteos held by the Green Brigade, this one has a little more meaning.
"While we urge as many fans as possible to turn out in support of all those currently banned and those facing ongoing harassment, it is important to remember the purpose behind this march.
"Therefore, we would appreciate it if colour was kept to a minimum in the form of flags and banners; similarly any chanting should be kept relevant to the topic at hand.
"The Green Brigade will be supplying 300 black t-shirts bearing the slogan 'The banned Bhoys stand with us' and these will be distributed to section members.
"We'd appreciate it if these shirts were worn on the march and also within the stadium to further highlight the situation."
The fans group claimed it would be police who would instigated any trouble, adding: "Please be mindful of the police presence and their actions. Please do not play into their hands.
"Avoid all communication as far as possible, have witnesses around you and a camera at hand to film/photograph them."