Exhibition opens on Glasgow's retail industry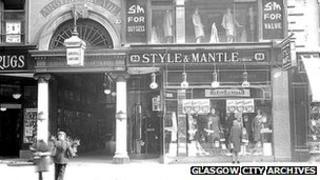 New research and previously unpublished photos are part of an exhibition chronicling Glasgow's retail industry.
The event is the result of commissioned research by four architecture and art history students from Glasgow University and Glasgow School of Art.
It tracks the development of the city's retail industry, which accommodates an average of 91 million shoppers a year.
The free exhibition runs from 18 March to 3 June at Glasgow City Heritage Trust offices in Bell Street.
Figures published last month by the Scottish Retail Consortium showed at least 10% of shops in Scotland were lying empty in January, with 4.6% fewer shoppers compared with the same month of 2012.
'Evolving dramatically'
In light of the statistics, Glasgow City Heritage Trust, which helps conserve the city's built environment, asked four international students to consider Glasgow's past, present and future retail landscape.
The work was undertaken by Friederike Well, 22, from Munich, and Lilija Oblecova, 24, from Latvia, who both attend Glasgow School of Art.
Beth Greenaway, 22, from Derbyshire, and Sileas Wood, 22, from Fife, who are both at University of Glasgow, also made contributions.
Ms Greenaway said Glasgow's retail experience was "evolving dramatically" and was challenging internet retailers.
"It is important for people to enjoy the experience and continue to shop offline, remembering the importance of small and independent retailers who give personality to a city," she said.
"There is the fear that the heritage of individual cities will suffer if shops, and the overall shopping experience, become increasingly similar throughout the UK."