Strathclyde Police criticised over Green Brigade march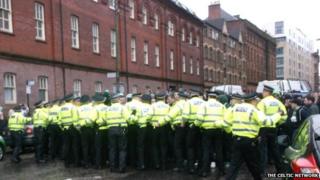 A Labour councillor has called for an inquiry into policing at a unauthorised march by the Green Brigade group of Celtic fans in Glasgow at the weekend.
George Ryan said tactics used by the Strathclyde force, at the gathering in the city's Gallowgate area, were "totally disproportionate".
Strathclyde Police strongly disputed his description.
It said almost 200 officers were needed to deal with a "confrontational and aggressive crowd" with 13 arrests made.
The arrests were for alleged public order offences during the incident.
Prior to the march, the Green Brigade had posted on its website that it would be holding a "corteo to Celtic Park to raise awareness and show support for the growing list of Celtic supporters receiving and facing bans" from both the Scottish Premier League football club and the procurator fiscal.
'Illegal procession'
Strathclyde Police deployed almost 200 officers, including mounted officers, to the gathering, outside the Chrystal Bell pub in Gallowgate.
Mr Ryan, who represents Glasgow's Shettleston ward, said he had written to First Minister Alex Salmond asking for an inquiry into how Strathclyde Police had handled the incident.
He told BBC Scotland that the police presence was "over-the-top" for what appeared to be a "relatively peaceful gathering".
He also criticised the police for using a tactic known as "kettling" to surround people at the protest.
Mr Ryan said this was "not acceptable" and "totally disproportionate".
He added: "Representing Shettleston, I have real and genuine concerns about criminality but surely there are other crimes more worthy of such police resources."
Strathclyde Police has contested some of the reports of the incident.
A spokeswoman said: "Any accusations regarding the police response to the illegal procession on Saturday 16th March in the Gallowgate are completely inaccurate.
"Having reviewed the footage senior officers are entirely satisfied that the officers on the ground dealt with the situation in a professional and proportionate way. Indeed, officers showed great restraint given the level of aggression and abuse they received.
"We are disappointed that a number of high profile individuals have chosen to criticise our actions in the media before approaching us to discuss the police response.
"We would be happy to make this footage public were it not for the fact that 13 arrests have already been made and its release would potentially be subjudice."