Lynda Spence trial: Accused denies murder and torture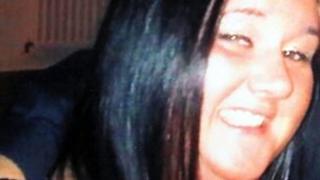 One of two men accused of murdering missing businesswoman Lynda Spence has denied killing her or entering a flat where she was allegedly tortured.
Philip Wade, 42, gave evidence in his own defence at the High Court in Glasgow, where he and Colin Coats, also 42, deny the charges against them.
He said it was "absurd" to suggest he was involved in abducting, murdering or inflicting violence on Ms Spence.
The 27-year-old was last seen on 13 April 2011. The trial continues.
After being called as a witness, Mr Wade was asked by his defence lawyer, Gary Allan QC, if he murdered Ms Spence. He replied: "No."
'Fleeting meetings'
Mr Allan asked him if he helped in, or contributed to, the "murder" of the 27-year-old. He again replied: "No."
He told jurors that he knew of Ms Spence through "fleeting meetings" she had with his friend, Mr Coats.
Mr Wade, a father of four, said she was an "extrovert" and that she would "kind of parade whatever she was involved in".
He said: "She wasn't quite my cup of tea but whenever we met her you were aware she was there."
The court also heard claims that Ms Spence "conned" Mr Wade's brother out of £2,000 which she never returned.
Mr Allan asked him: "Did that fall-out provide a basis for you murdering her?" He replied: "No, certainly not."
Both accused deny holding Ms Spence against her will at a flat in Meadowfoot Road, West Kilbride, Ayrshire, where it is alleged they assaulted her for up to two weeks from 14 April 2011.
Mr Wade told the court he saw Ms Spence enter the flat, which belonged to David Parker, 38, that day of her own accord, after following in a "convoy" with Mr Coats's car, in which Wade was a passenger, from Glasgow.
"Lynda parked up the road a bit from Colin and the two of them walked in in front of me," he said.
Mr Wade said he had been drinking heavily and went up to the door of the flat to see if he could use the toilet.
He said the place was "in a bit of a state" and he did not want to interrupt Mr Coats and Ms Spence, who were having a discussion with 47-year-old Paul Smith.
Drug dealer
The witness said he turned away from the property without going inside and relieved himself in the back garden.
"When I was out the back I could still hear (Ms Spence) OK. She was fine, just the usual Lynda - she was the main voice in the room," he told the court.
The suggestion that he was involved in abducting, murdering or inflicting violence on Ms Spence was "absurd", the witness said.
Mr Wade admitted to the court he had been a cocaine dealer and that he was in the West Kilbride area on numerous occasions to chase debts from customers.
Mr Coats often gave him a lift as he was disqualified from driving after being caught drunk behind the wheel in 2009, he said.
Jurors were told he spent four and a half months on remand in Barlinnie prison at the end of 2010 and early 2011, after being charged by police with an assault. He was acquitted of that charge four days into a trial.
Mr Wade said he never entered the Meadowfoot Road flat and, whenever Mr Coats went to see Ms Spence there, he waited in the car.
"I was aware she had to get out of Glasgow. Colin was trying to shield her and conduct business for her in Glasgow. In my opinion, he was running about after her and, in my opinion, she didn't deserve him running about after her," he said.
Parker and Smith were also accused of murdering Ms Spence but were cleared when they pleaded guilty to a reduced charge of detaining her against her will and assaulting her, as well as attempting to defeat the ends of justice.
They will be sentenced on Monday.
Mr Coats' and Mr Wade's trial, before Lord Pentland, continues.