Lynda Spence trial: Accused asked over body whereabouts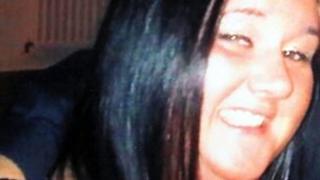 One of two men accused of murdering missing businesswoman Lynda Spence has been asked in court to tell her parents where her remains are.
Philip Wade, 42, was asked the question by the prosecution QC, who told him to "look into your conscience".
He said Ms Spence was alive when he last saw her and he had "no idea" if she was dead.
Mr Wade and Colin Coats, 42, deny abducting, torturing and murdering the 27-year-old in April 2011.
At the High Court in Glasgow, Solicitor general Lesley Thomson QC said: "Do you remember Lynda Spence's parents coming here to give evidence? And you saw the distress and grief of Mrs Spence when she was giving evidence?"
'Your opinion'
Mr Wade replied: "Yes."
The solicitor general asked: "There are only two people who can tell Mrs Spence where her daughter's remains are, aren't there?"
The witness said: "That's in your opinion."
Ms Thomson said: "What I'm going to ask you to do, Mr Wade, is to look into your conscience and tell them where Linda's remains are."
Gary Allan QC, defending Wade, pointed out that Ms Thomson's questions contained an "assertion" that Ms Spence is dead.
He asked his client: "Can I ask you if you know she is dead?"
Mr Wade said: "I have no idea. I'm hoping that wherever Lynda is, she hands herself in."
Mr Allan added: "When you last saw her, was she dead?" The witness replied: "No."
The lawyer asked Mr Wade if Ms Spence was distressed when he last saw her, to which he responded: "Not at all, (she was) just the usual Lynda."
Earlier Mr Wade told the court that a story which implicated him in Ms Spence's murder was "total fantasy".
The accounts were given by his former co-accused, Paul Smith, 47, and David Parker, 38, who were acquitted of murder after pleading guilty to a reduced charge of holding Ms Spence against her will and assaulting her.
'Horrific story'
They both gave evidence in which they said they were asked by Mr Wade and Mr Coats to detain Ms Spence at a flat in Meadowfoot Road, West Kilbride, North Ayrshire.
They also claimed the two accused men would visit every day to inflict violence on her.
Mr Wade agreed with Ms Thomson that it was a "horrific story".
The solicitor general said: "But oddly, on hearing that horrific story, your defence counsel Gary Allan said the thing you were most shocked about from Paul Smith's evidence was that he said you had taken drugs in front of your kids?"
Mr Wade replied: "The rest of the story is total fantasy but I would never take drugs in front of my kids."
The solicitor general said: "Whatever way you look at it, (Parker and Smith) are going to spend a long time in prison. Is that seriously your position, that their story is total fantasy?"
Mr Wade replied that it is.
Parker and Smith are due to be sentenced on Monday.
The trial, before Lord Pentland, continues.