Foetus found in Monklands Hospital clinical waste bin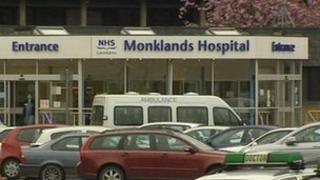 An investigation has been started after a foetus was discovered in a clinical waste bin at Monklands Hospital in Airdrie.
The foetus was believed to have been between 15 and 20 weeks gestation.
NHS Lanarkshire apologised for the distress caused by the incident and said it aimed to treat all families with dignity and respect.
Scottish Health Minister Alex Neil, who is the MSP for Airdrie, said something had gone "seriously wrong".
Mr Neil told BBC Radio's Good Morning Scotland programme: "Clearly something has gone very badly wrong with the procedure as a result of which a foetus was wrongly put into a repository that it shouldn't have been put into.
"There is a proper procedure and foetuses are stored at Wishaw General Hospital in these circumstances in a very protected and respectable environment.
"The health board is investigating what actually happened."
A spokeswoman for the Stillbirth and Neonatal Death Society said hospitals should be following guidance issued by the Royal College of Nursing and the Institute of Cemetery and Crematorium Management.
The guidance states that foetal remains should be disposed of sensitively and separately to clinical waste.
The spokeswoman added that this situation was "very distressing for everybody" and that "babies' bodies, whenever they're delivered, should be treated with respect".