Royal Navy pilot honoured for mountain rescue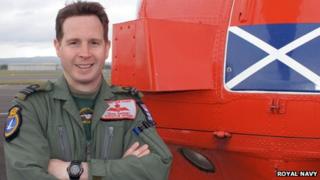 A Royal Navy helicopter pilot has been honoured for his leadership during a mountain rescue made at night in blizzard conditions.
Lt Cdr Craig Sweeney and his team from HMS Gannet in Ayrshire went to the aid of a climber after he broke his ankle on 18 December 2011.
The crew had to fly close to a rock face during the rescue on 936.9m (3,074ft) Beinn Sgulaird, near Oban.
Lt Cdr Sweeney, 38, has been awarded the Air Force Cross for his actions.
The silver medal recognises exemplary gallantry in the air on non-active operations.
The climber, Dr Gareth Bradley, who lectures in engineering at the University of the Highlands and Islands in Perth, has thanked the Royal Navy crew for saving him.
Lt Cdr Sweeney, who is originally from Harrogate, North Yorkshire, and now lives in Alloway, Ayrshire, drew on his experiences as a Commando Helicopter Force pilot in the Arctic and Afghanistan during last year's rescue.
He praised the actions of his Sea King helicopter crew, including winchman Chief Petty Officer Jason Bibby.
Lt Cdr Sweeney said: "It was intense flying which relied on dozens of years of the whole crew's experience and expertise, and really full-on team work.
"I had trained and worked with my winchman of that day all around the world and, most notably, had practised this very technique both in the Arctic conditions of Norway and the desert sands of Afghanistan, where you get a very similar thing happening when the rotors kick up the fine sand particles.
"And it all led to us being able to get the job done safely and as quickly as possible in some of the worst conditions we had experienced."
Dr Bradley said: "They were amazing, very professional, they reassured me and talked me through exactly what was happening.
"If it wasn't for these guys I might not be here today. I was extremely relieved to see that helicopter and the air crewman and mountain rescuers who were winched down to me.
"I pass on my thanks, once again, to Lieutenant Commander Sweeney and his crew."