West End Festival cash appeal for Mardi Gras parade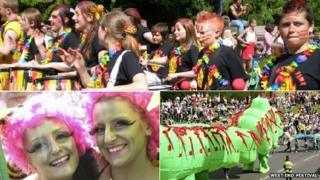 Glasgow's West End Festival has launched a campaign to raise £50,000 to stage its Mardi Gras-style parade.
The event was shelved last year after sponsorship income was unable to cover the rising costs of road closures, security and clearing-up.
Instead the festival focused on cultural and community events.
Organisers hope fundraising efforts will allow the popular street parade to go-ahead on 9 June. The festival runs this year from 31 May to 30 June.
Festival chairman Liz Scobie: "This year we will celebrate the festival's 18th birthday. That's testament to the support we've gained over the years and the success of the festival in the west end.
"Last year we didn't have our usual parade and some people were disappointed, but we need to be realistic why it couldn't go ahead.
"It comes at a price and the costs of road closures, security and clearing-up have sharply risen."
Ms Scobie said the festival received "generous funding" from organisations such as Creative Scotland and Glasgow City Council, but stressed that alone was "not enough to put on such a show".
There were an estimated 1,800 artists and performers at the 2012 festival.
As part of the fundraising drive for 2013, organisers have set up a web page where donations can be pledged.
Tickets are also being sold for a "fashion and fizz event" at Glasgow's Hotel du Vin on 7 May.