Lynda Spence trial: Murder claims 'monstrous lies'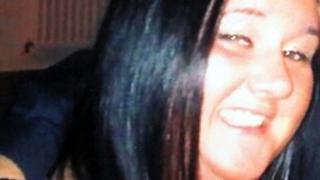 One of two men accused of murdering missing businesswoman Lynda Spence has said claims that he abducted, tortured and killed her are "monstrous lies".
Colin Coats admitted that he "despised" the 27-year-old after losing money in a financial deal.
But he told the High Court in Glasgow that he never saw her enter the attic of a flat where it is claimed she was tortured until her death.
Mr Coats and co-accused Philip Wade, both 42, deny murdering Ms Spence.
David Parker, 38, and 47-year-old Paul Smith, who were also originally charged with murder have had reduced pleas to assaulting Ms Spence to her severe injury accepted.
'Police pressure'
They told the jury that they watched Ms Spence while Mr Coats and Mr Spence visited almost daily and tortured her at a flat in Meadowfoot Road, West Kilbride, between 14 and 28 April 2011.
Mr Coats was asked by Solicitor General Lesley Thomson QC, prosecuting: "Mr Parker and Mr Smith started telling people about it as the torture was going on," and he replied: "I believe there have been monstrous lies told."
Mr Coats was asked why three people who had given evidence in the trial, including a former cell mate, had claimed that he had confessed to killing Ms Spence.
He replied: "I think they were put under pressure by the police."
Ms Thomson asked the witness if he thought others had concocted the claims "under pressure" from police.
He replied: "I believe the police used unconventional methods. You can't imagine the pressure I've been under and my loved ones."
Mr Coats said he believed other witnesses were "afraid of the police".
He also referred to miscarriages of justice saying: "You hear about miscarriages of justice. So-called confessions in prison where someone serves 25 years in prison and then it's found out they were lies."
It was put to Mr Coats that by the end of 2010, he was well aware that Ms Spence was lying to him and he replied: "I was aware she was always difficult to pin down to the detail of things."
Ms Thomson continued: "You were well aware of all her lies by the middle of March 2011."
'Planning punishment'
Mr Coats told the jury: "I would question her on things, but I had comfort of £6.6m in bearer bonds in my sister's house."
It was then suggested to Mr Coats: "You continued to be friendly with her, but you were planning to mete out punishment to her," and he said: "That's not the case."
Ms Thomson then accused Mr Coats of torturing and killing Ms Spence and he said: "No, foolishly I was looking out for her."
The accused denied that he had shown businessman John Glen a thumb on 20 April 2011. He said: "That didn't happen."
He also denied that Ms Spence was ever bound to a chair in the attic of the flat in Meadowfoot Road and claimed that the attic space housed a cannabis factory."
The trial before judge Lord Pentland continues.