Arran and Argyll customers nearing power reconnection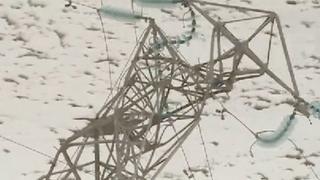 All but 450 homes on Arran and Kintyre could be reconnected to power grids by Wednesday night after being cut off during Friday's winter storm.
Scottish and Southern Energy (SSE) said engineers had set up two temporary power stations to reconnect supplies while repairs were made to the network.
The utility firm said it hoped to have all affected customers on temporary supplies by the end of Thursday night.
Meanwhile, travel was disrupted as more snow fell across Scotland.
At the peak of the damage after last Friday's storm, more than 20,000 homes across west and southern Scotland were cut off.
Five-night blackout
SSE said eight pylons had been damaged by sheets of ice and snow in Argyll alone.
Power was restored to affected areas across Dumfries and Galloway on Monday.
By Wednesday morning, the firm said that 725 homes in Arran were still without power for the fifth consecutive night.
Power was restored to Campbeltown, but 800 customers in outlying areas were still cut off as well as 20 homes in Tarbert.
SSE now aims to have power restored to all but 450 homes in Arran and Argyll by Wednesday night with the remainder to follow by Thursday night.
A spokesman added: "Conditions continue to be challenging, but we believe that, providing no further significant damage to the network is found, customers who lost their supply as a result of the recent severe weather event should have electricity restored by the end of Thursday night.
Finance Secretary John Swinney has activated the Bellwin Scheme to allow additional revenue support to local authorities hit by the snow storms.
The scheme helps councils in the wake of large-scale incidents.
The Scottish government has also convened an agricultural task force to co-ordinate efforts to support farmers hit by the latest severe weather.
The group's immediate priority is minimise both livestock losses and animal suffering.
In the longer term, the government has pledged to consider future requests for aid to help the farming industry recover.
All schools in Arran are to remain closed for the rest of the week.
North Ayrshire Council said pupils involved in exams would get support on their return from the Easter break.
Travel disruption
Argyll and Bute Council said a few of its schools were closed due to having no electricity.
Meanwhile, travel disrupted on Wednesday morning as further snow hit many parts of Scotland.
In addition to high-level routes, difficult conditions were reported on parts of the motorway network.
Problem areas included the M9 at Falkirk, the M8 at Livingston and the M8 in Glasgow.
A number of roads were also badly affected in the Scottish Borders.
An accident partly blocked the A72 between Innerleithen and Walkerburn and there were reports of other minor accidents on the A7 and A68.
Snow and ice also closed roads in Aberdeenshire and caused delays in Aberdeen.