Lynda Spence trial: Prosecutor begins closing speech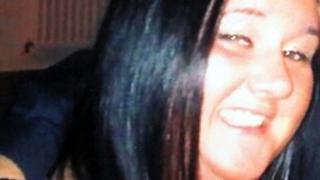 The prosecution case has ended in the trial of two men accused of murdering missing businesswoman Lynda Spence.
In her closing speech, prosecutor Lesley Thomson said Ms Spence "knew what she was in for" when she was abducted and taped to a chair.
She told the High Court in Glasgow the 27-year-old was told "this is an abduction" by one of her captors.
Colin Coats and co-accused Philip Wade, both 42, deny abducting, torturing and murdering Ms Spence in April 2011.
The Crown alleges that Ms Spence was abducted by the men and led to an attic room in a flat in West Kilbride, North Ayrshire, where she was held and tortured for up to two weeks.
'Sufficient evidence'
Ms Thomson told the jury of six men and seven women that Ms Spence's body has never been found and neither has the silver Vauxhall Astra that she was driving on 14 April 2011 - the day she went missing.
The prosecutor told the court that the Crown case is that by 28 April 2011, Ms Spence was dead and added: "The Crown can't tell you by what method, but there is sufficient evidence that Collin Coats and Philip Wade murdered her."
She said the claims made by Mr Wade and Mr Coats about Ms Spence staying voluntarily in the flat in Meadowfoot Road, West Kilbride, made no sense.
Ms Thomson said if that were true, Ms Spence's DNA would have been all over the flat.
Instead, the prosecutor said, the only trace of the financial adviser was a blood mark found behind the door in the bathroom.
Ms Thomson said that implied there had been a clean up after Ms Spence was killed.
She also told the jury to consider why, if the accused's story about a safe house was true, neither Mr Coats nor Mr Wade had ever told the police about it.
Ms Thomson described Paul Smith, 47, and David Parker, 38, who guarded Ms Spence during the two weeks she was bound to a chair and tortured in the attic, as "evil men".
The prosecutor added: "They are participants in an evil crime, but they provided a truthful account of what happened to her while they were guarding her."
Both said in evidence that Ms Spence was beaten and had the tip of her pinkie and her thumb cut off with loppers.
'Dreadful tale'
They also told the court she had one of her toes crushed, her hands burned with an iron and was hit on the legs with a golf club.
This all happened, they said, while she was tied to a chair for 13 days.
Speaking of their evidence, which the defence teams claim is lies, Ms Thomson said: "No one would make up that dreadful tale. No one would take a situation where no crime was committed and make up a crime."
She added, that according to witness accounts, Mr Wade and Mr Coats both made admissions about the crime.
Ms Thomson told the jury: "They just do not keep their mouths shut. Whether that was to engender fear or to boast, neither of them kept quiet."
Referring to defence witnesses who claim to have seen Ms Spence in May, June, July and August on 2011, she said that they were mistaken and it was someone similar to her they had seen.
She added: "Heavily-built women with dark tied-back hair aren't exactly uncommon in the west of Scotland."
The trial before judge Lord Pentland continues.