John McKinlay jailed for raping two girlfriends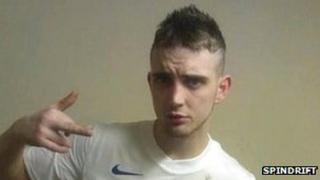 A man who raped two of his girlfriends during a catalogue of domestic abuse has been jailed for six years.
John McKinlay admitted carrying out a string of charges - including physical attacks on two other women.
The 23-year-old from Lanark, South Lanarkshire, committed the offences between February 2009 and July 2012.
At the High Court in Glasgow, judge Lord Turnbull ordered McKinlay to be supervised for two years following his release from prison.
Money row
The court heard how McKinlay raped his first victim, aged 20, then got up and made himself a cup of tea.
She was also beaten by him which included her head being smashed off a kitchen worktop.
McKinlay later started seeing a 19-year-old girl whom he attacked after finding her at home with his cousin.
His third victim was kicked and punched on the face following a row over money.
The final woman was accused of cheating if she was late home from work.
The court heard how McKinlay once slammed her against a fridge leaving her bleeding.
The woman - who was called names such as "slag" - said assaults became a normal way of life and that she was too terrified to leave.
McKinlay later raped her despite the victim repeatedly insisting she did not want sex.
The court heard that McKinlay understood he needed help and was "deeply remorseful" for what he had done.
He is now dating another young woman who is "under no illusions" about his violent history.
Lord Turnbull told McKinlay that his jail-term would have been eight years, but for the guilty pleas.
He said: "This was the most callous and violent conduct against women, who were entirely unable to defend themselves."