Consultation on East Dunbartonshire school merger plans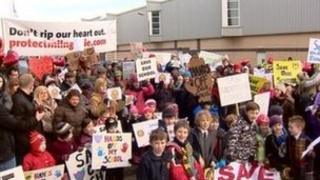 One of Scotland's most successful education authorities is to put a controversial school closure and merger plan out to consultation.
East Dunbartonshire Council, which is regularly near the top of exam league tables, proposes to merge eight primaries into four new-build schools.
The authority said changes were needed to "address under-occupancy and future sustainability" issues.
Local people opposed to the plans have said they will fight them all the way.
A consultation in May will cover the proposed merger of Lenzie and Lenzie Moss Primary Schools on the Lenzie Moss site in Lenzie and Woodhill and Auchinairn Primary Schools on the Woodhill Primary site in Bishopbriggs.
A further August consultation will cover the proposed merger of St Joseph's and St Andrew's Primary Schools on the current St Andrew's Primary School site in Bearsden and St Agatha's and St Flannan's Primary Schools on the St Flannan's Primary site in Kirkintilloch.
'Move forward'
The other informal consultations cover proposals for Meadowburn, Balmuildy, Wester Cleddens, Gartconner, Oxgang, Hillhead and Harestanes Primary Schools.
Council leader Rhondda Geekie said: "From the outset we agreed that doing nothing about our primary estate was not an option.
"We have agreed that four options should move forward to statutory consultation.
"Subject to that statutory process, this council decision aims to deliver four new-build primary schools, fit for the 21st Century, fit to deliver the Curriculum for Excellence, with all the associated educational benefits for our young people and the wider benefits a new school and its facilities bring to a community."
Campaigners opposed to the plans have said they continue their fight.
David Bauld from the Save Gartconner group of parents said: "The council has progressed plans for our school we do not feel is beneficial to our area, our children or our future.
"Nobody from our action group will rest till this is stopped.
"We will hold every elected councillor and council officer accountable for every piece of information they provide and make them answerable to the public."
Laureen McIntyre, chairwoman of St Joseph's parent council, said that following the latest decision, parents were "incredibly disappointed and angry."
"We asked the council time and time again what the criteria was for picking out the schools they selected for their consultation, which they refused to tell us," Ms McIntyre said.
"We are not prepared to allow Catholic education in Milngavie to disappear and we intend to fight this decision."