Arran power: 'Every property has electricity restored'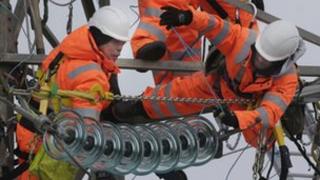 Every customer left without electricity after last Friday's snow storm has now had their supply restored, energy firm SSE has said.
Power had been cut to about 20,000 properties in southern and western Scotland after pylons were damaged by snow and ice.
SSE said electricity had been restored to the final 100 properties on Arran on Thursday evening.
Engineers are now moving supplies from mobile generators to the main network.
SSE said the work would be carried out in phases across Arran and the Kintyre peninsula, turning the generators off on an area-by-area basis and energising a section of the network at a time.
It warned that customers will experience a short loss of power, of between half-an-hour to an hour, while the switchover takes place.
Anyone who experienced an interruption of more than hour should call 0800 300 999 for further information.
A statement released by the company said: "Over the week, a significant number of repairs have been made to the electricity network. The process of switching to mains power may reveal some further damage, but staff will be on hand to repair any outstanding issues.
"Providing no further damage or issues are found, the restoration plan is likely to take several hours, but should be complete today."
SSE set up generators providing the equivalent of two temporary power stations to reconnect supplies while repairs were made to the network.
It acknowledged on Thursday there had been technical problems with the generators serving Blackwaterfoot and the area around Whiting Bay.
Easter weekend
And one local, who did not want to be named, told BBC Scotland her electricity - which had been restored on Thursday afternoon - cut out again when she tried to boil a kettle on Friday morning.
It had still not been restored some three hours later, she said.
The woman said some locals were concerned that Arran's electricity network would not be able to cope with the thousands of holidaymakers due to descend on the island for the Easter weekend.
But a spokeswoman for SSE said the mobile generators would remain on the island until the main supply had been fully restored and was confirmed to be working as it should.
She added: "Every generator in Britain north of the M25 has been moved to Arran. There is no problem with capacity."
SSE said it would be maintaining a "heavy staff presence" over the weekend in Arran to ensure that any properties, including holiday homes, that do not have an electricity supply can be repaired quickly.
The Scottish government has also announced the first portion of funding for farmers whose livestock was affected by the bad weather.
Transport Minister Keith Brown said: "The severe weather over last weekend has created some of the most challenging conditions we have seen in decades.
"I want to congratulate all those involved in working together to restore, as quickly as possible, normal life for communities across the west of Scotland.
"In particular, those who have supported their neighbours, provided accommodation and food and ensured that vulnerable people remained safe throughout these difficult days should be recognised and congratulated for their outstanding community spirit.