Giant Taggart tattoo wins Scottish award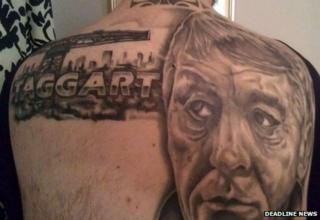 A Taggart fan won an award for the best Scottish-themed tattoo after having actor Mark McManus' face inked on his back alongside the Finnieston crane.
John Cuthbert, 34, beat competition from designs featuring Braveheart and caramel wafers at the Scottish Tattoo Convention in Edinburgh.
He said the show summed up Glasgow and that McManus, who played Det Ch Insp Jim Taggart, was "amazing".
Organisers said it was the "perfect embodiment of a Scottish tattoo".
The father-of-one from Bearsden, who has 60% of his body covered in ink, said the tattoo arose from a chat with friend Mark Wallace, who works at a tattoo studio in Glasgow.
Iconic references
Mr Cuthbert, an IT worker, said his Glasgow-themed tattoo was not yet complete.
"It's got the Glasgow skyline alongside McManus's face - who for me is just amazing," he said.
"But James MacPherson is also good and will be added later along with other iconic references to Glasgow."
He said his wife Joanne, who has no tattoos of her own, took a while to get used to it.
"She is fully supportive about this," he said. "But I think at first when she rolled over in the night and saw McManus' face staring back, she was getting a bit of a shock."
James Aitken, the Scottish Tattoo Convention organiser, said: "The category was aimed at finding the best Scottish-themed tattoo and John certainly delivered that.
"Taggart is something that every Scotsman knows and it's pretty much unique to our country."
Mark McManus played the lead role in the ITV drama for 11 years.
James MacPherson was his right-hand man as Det Michael Jardine, and became the central character following McManus's death in 1994, aged 59.
The two-day tattoo convention took place at Edinburgh's Corn Exchange.