Dog neglect woman Flora Giffin given animal ban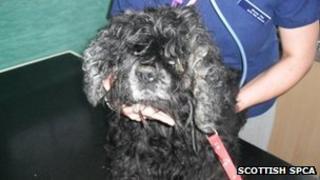 A woman whose dogs had to be put to sleep after she failed to provide proper vet treatment has been banned from keeping animals for 10 years.
Flora Giffin, from Faifley, Clydebank, West Dunbartonshire, was caught during a Scottish SPCA investigation.
She later admitted offences under the Animal Health and Welfare (Scotland) Act 2006.
At Dumbarton Sheriff Court, 69-year-old Giffin was also given a six-month supervision order.
The court heard how her two dogs suffered from a number of untreated painful health conditions.
Giffin's 12-year-old Spaniel, Abbey, had a large pus-filled growth in her ear and was suffering from chronic dry-eye, a painful condition which, left untreated, causes blindness.
'Sad case'
She was also severely matted around the legs, ears and face and could not lift her head off the ground when walking.
Giffin's 17-year-old West Highland terrier, Clyde had painful ear and skin infections and dental disease.
Despite initial treatment he was also found to have underlying health complaints.
Scottish SPCA Inspector Jennifer Connolly said: "This was a particularly sad case because the dogs were left to endure a number of painful and debilitating conditions without their owner making any attempt to seek veterinary attention despite stating she was entitled to free treatment with the PDSA.
"Giffin knew her dogs were in an awful condition, yet she did not take them to the vets because she feared being told off.
"This highlighted a selfish disregard for the welfare of Abbey and Clyde, therefore, we welcome today's sentence as we believe Giffin has demonstrated she is unfit to provide animals with even the most basic care and attention they require."