Craig Watson jailed over failed raid on Oran Mor takings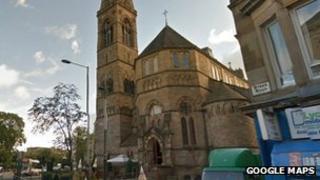 A man who tried to rob two Glasgow pub employees of £72,343 in takings has been jailed for 34 months and 22 days.
Craig Watson attacked Ronald Stone in West George Street as he was making his way to deposit takings from the Oran Mor pub on Byres Road.
Watson fled after being tackled by Mr Stone's colleague. He was caught when his DNA was found on a hat left behind.
The 39-year-old was convicted of assault and attempted robbery at Glasgow Sheriff Court.
The court heard how Mr Stone and his colleague Andrew Robertson drove to the Allied Irish Bank to deposit the cash.
Street scuffle
Mr Stone had got out of the car and made his way to the doors when he was tackled from behind.
Mr Robertson ran to his colleague's aid and wrestled with Watson.
The court was told that at one point during the struggle, the men were face-to-face and Mr Robertson was able to get a good look at Watson.
The rucksack containing the cash was thrown into the bank, where it was kept safe.
Watson ran off and was met by a getaway car which had dropped him off before the raid.
The incident was captured on CCTV footage which was played to the jury.
Watson claimed it had been a case of mistaken identity.
Passing sentence, Sheriff Sam Cathcart told Watson the crime was "clearly pre-planned".