Paisley's Sandyford Abattoir fined for BSE law breach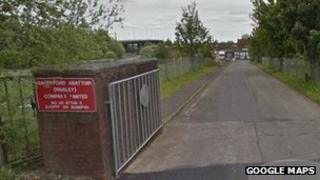 A Renfrewshire slaughterhouse had been fined £9,500 for breaching legislation designed to prevent BSE from entering the food chain.
Inspectors identified cases at Paisley-based Sandyford Abattoir where the spinal cord and spleen had not been removed from sheep carcasses.
The firm admitted three breaches of the Transmissible Spongiform Encephalopathies Regulations.
Paisley Sheriff Court heard the firm had been fined for previous breaches.
Transmissible Spongiform Encephalopathies Regulations are part of government measures to reduce the risk of people eating beef or meat products that might be infected with BSE.
The regulations state that a range of specified risk material - such as spleen, brains and spinal cord - must be removed and disposed of and not go into human food or animal feed.
The court heard how health and hygiene inspectors visited the Sandyford Abattoir in January, February and May 2012.
Carcass removed
On the first occasion, a sheep being processed was found to have part of its spinal cord intact, despite the fact that every employee involved in the process knew this had to be completely removed.
The carcass was seized and taken to a holding room.
A month later, the same problem was encountered and the same individual was held responsible.
This time, a portion of spinal cord measuring 3.8cm was discovered. The carcass was again taken from the production line and placed in a safe area.
The court heard that on the third occasion, a lamb carcass was found to have the entire spleen intact when it should have been completely removed.
A different individual was held responsible. The employees involved were given formal warnings.
Sheriff James Spy imposed fines totalling £9,500 for the breaches.