Celtic fans hold rally against football law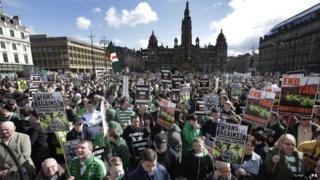 Thousands of football fans have protested against perceived ill-treatment and "criminalisation" by the law on offensive behaviour at games.
Protesters gathered for the rally by Fans Against Criminalisation - an organisation of Celtic fans' groups.
The city council agreed to the George Square event but declined permission for a parade.
An unauthorised march by the Green Brigade group of Celtic fans in Glasgow last month saw 13 arrests made.
Police said Saturday's rally passed off peacefully and no arrests were made.
Fans Against Criminalisation (FAC) represents thousands of fans belonging to the Green Brigade, Celtic Trust, Celtic Supporters Association, Affiliation of Registered Celtic Supporters Clubs and Association of Irish Celtic Supporters Clubs.
'Rethink needed'
The group opposes the Offensive Behaviour at Football Bill, which it claims is criminalising the harmless activities of ordinary fans and has led to "heavy-handed" policing.
Offences under the bill include sectarian and other offensive chanting and threatening behaviour related to football, which is likely to cause public disorder.
It also covers the behaviour of players and managers.
Labour MSP Michael McMahon, who spoke at the rally, said: "The government didn't listen a year or so ago when they brought forward this legislation - it's bad legislation and it's having a detrimental effect on the relationship between football fans and the police.
"We need to get a message sent clearly to the Scottish government that they have to rethink this, they have to review the legislation and they have to establish a much more cohesive strategy for dealing with the problems of sectarianism and hatred in Scotland."
A Scottish government spokesman said the police protected fans from the tiny minority whose "behaviour spoils the game".
The spokesman added: "An 87% charge rate and 83% conviction rate for people arrested under the legislation shows that it's working well.
"Tackling bigotry and hatred isn't just about legislation, but about wider action to help bring communities coming together.
"That's why the Scottish government announced £9m over three years to support a wide range of projects across Scotland which are tackling sectarianism."
Police Scotland estimated that about 3,000 fans attended the rally and said there were no arrests or disorder.
As part of its continuing campaign, FAC applied to Glasgow City Council to stage a rally in George Square followed by a street parade.
The authority approved the rally but declined permission for the march on the grounds the organisers had failed to comply with the required 28 days' notice to hold a street procession.
Police Scotland had raised concerns about the dispersal at the end of the rally and set up three routes towards Celtic Park, for the SPL match with Hibernian.
Ch Supt Andy Bates said: "As always when dealing with large crowds dispersing from an event, it is inevitable that there will be some disruption to traffic.
"That said, I am pleased this was kept to a minimum and the people who took part in today's rally adhered to the pre-planned dispersal routes."