Shake-up recommends closure of 10 sheriff courts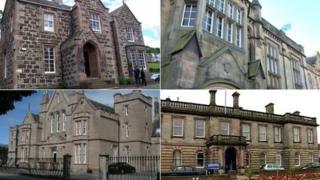 The Scottish Court Service wants to close 10 sheriff courts around the country in a bid to save money.
Proposals submitted to ministers also recommend phasing in further changes to hold sheriff and jury cases at just 16 sheriff courts around Scotland.
The plans would also see the closure of seven justice of the peace courts.
The courts service said the proposals were "stark" but "proportionate". Critics have argued that they will limit access to justice.
Scottish Court Service chief executive Eric McQueen said the administrative shake-up was being proposed at a time when "public sector funding is under severe pressure".
'Substantial savings'
He said: "By 2015 the court service running cost budget will reduce by 20% in real terms and the capital budget will reduce from £20m to £4m."
Mr McQueen said the pressures on funding meant the Scottish Courts Service needed to change the way it operates and delivers services.
"We have already made substantial savings by reducing staff numbers, reducing sitting court days and streamlining our corporate services, but continuing with these types of cuts simply reduces our ability to deliver a quality court service," he said.
The recommendations, if adopted by ministers and approved by MSPs, would see the closure of 10 of the existing 49 sheriff courts in Scotland, including nine co-located justice of the peace courts. These are:
Dornoch - with business going to Tain;
Duns - with business going to Jedburgh;
Kirkcudbright - with business going to Dumfries;
Peebles - with business going to Selkirk;
Rothesay (sheriff court only) - with business going to Greenock;
Arbroath - with business going to Forfar;
Cupar - with business going to Dundee;
Dingwall - with business going to Inverness;
Haddington - with business going to Edinburgh; and
Stonehaven - with business going to Aberdeen.
The court service also proposes to close seven stand-alone justice of the peace courts at:
Annan - with business going to Dumfries;
Irvine - with business going to Kilmarnock;
Motherwell - with business going to Hamilton;
Cumbernauld - with business going to Coatbridge;
Portree - with business going to local sheriff court;
Stornoway - with business going to local sheriff court; and
Wick - with business going to local sheriff court.
The proposals outlined by the courts service need to be approved by Scottish ministers and the Scottish Parliament.
If given the go-ahead, the closures would come into effect between November this year and January 2015.
Other provisions would see sheriff and jury cases heard at just 16 sheriff courts on the mainland and five island courts on Lerwick, Kirkwall, Stornoway, Lochmaddy and Portree.
This would mean that if the proposed 10 sheriff court closures are approved, just 21 courts from the remaining 39 in Scotland would deal with sheriff and jury cases.
The Scottish Court Service proposes that these be phased in over the next 10 years.
Mr McQueen added: "These recommendations may sound stark but they are proportionate.
"The volume of business transacted in the sheriff courts recommended for closure is around 5% of the overall court business.
"We believe that instead of investing in all our current buildings we must invest our energy and resources in making better use of technology including video links and online processes."
Financial pressures
The proposals have been met with widespread opposition from the Law Society, unions and local MSPs who say they will limit access to justice.
Law Society of Scotland president Austin Lafferty said: "These court closures seriously threaten access to justice in many parts of Scotland and could lead to a long-term decline in our cherished justice system.
"We recognise the financial pressures facing the Scottish Court Service. However, we are concerned this closure programme will fail to even achieve the very limited significant financial savings planned."
Brian Carroll, secretary of the PCS union's Scottish Courts branch, said: "It is our opinion that these proposals are about fitting the delivery of justice into a reduced budget and nothing to do with modernisation or with the proposed justice reforms that are under consultation presently.
"The introduction of reforms should not be reliant on the closure of courts."
Lib Dem leader Willie Rennie called on the Scottish government to listen to the many objections against the proposals.
He said: "The ball is now firmly in the SNP's court. Scottish government ministers have the power to save these services.
"They need to listen to the views of people in Fife and elsewhere on the damage that these closures could cause and act to protect local justice."
Jenny Marra, Scottish Labour MSP for North East Scotland, said the proposals would "be a substantial blow to the towns affected".
"Local courts ensure easy and speedy access to justice across the country," she said.
"They are also vital economic contributors to their towns. To close courts and ask victims and witnesses to travel further with more inconvenience is simply unacceptable."
John Lamont, Scottish Conservative MSP for Ettrick, Roxburgh and Berwickshire, said proposals to close Duns and Peebles Sheriff Courts were "a massive blow to the justice system" in the Borders.
"It also means that a huge amount of pressure will be heaped upon Jedburgh and Selkirk Sheriff Courts as they have to take on the extra workload created by these closures," he said.
"This will severely hamper our ability to process criminal and civil cases and will inevitably lead to more delays in the system."