Christopher Grenfell to appeal James Simpson murder conviction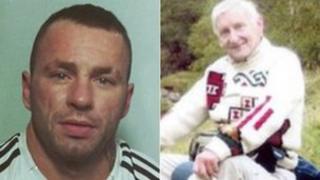 A car thief who was jailed for life for murdering a man by running him over with with his own car is appealing against his conviction.
Christopher Grenfell, 26, drove over James Simpson fatally crushing him, outside the victim's home in Ashgill, South Lanarkshire, in November 2011.
He was jailed for a minimum 17 years for murdering the 76-year-old.
His legal team say jurors were wrongly directed by the judge on the difference between murder and culpable homicide.
During Grenfell's trial in August 2012, the High Court in Glasgow heard how he smashed a window at the home Mr Simpson shared with his wife Minnie and took the keys to his 4x4 Land Rover Discovery.
'Unsurvivable injuries'
The 76-year-old tried to tackle Grenfell but fell under the wheels of the vehicle, suffering "unsurvivable crushing injuries".
Mrs Simpson told the trial how she rushed to her husband's aid.
The jury heard how Grenfell had offered to plead guilty to the culpable homicide of Mr Simpson, claiming he had never "set out" to kill the pensioner.
His plea offer was rejected by the Crown, however, and jurors convicted him of murder.
Trial judge Lord Burns said Grenfell had used Mr Simpson's 4X4 to inflict "fatal and devastating" injuries.
'Deplorable actions'
The judge told Grenfell: "You fled the scene of this crime knowing that this elderly man must have been gravely injured and abandoned the car and threw away the keys."
Lord Burns added: "Your actions against him were deplorable and motivated by greed."
Grenfell's legal team indicated in October last year that they would launch an appeal against his conviction.
Details emerged at the Court of Criminal Appeal in Edinburgh when lawyers gave a report on how preparations for a full appeal hearing were progressing.
Grenfell's legal team are criticising the way Lord Burns explained the case to the jury, claiming they were wrongly directed on such issues as the difference between murder and culpable homicide.
Appeal judges will hear the arguments later this year. No date has yet been set.