William Quarrier Scottish Epilepsy Centre opens in Govan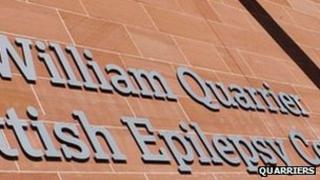 A £6.4m epilepsy treatment centre is due to be opened in Glasgow.
The William Quarrier Scottish Epilepsy Centre, in Govan, will offer diagnosis and treatment for the condition, which affects about 54,000 Scots.
About 100 patients will be treated each year at the 12-bed centre, near the Institute of Neurological Sciences at the Southern General Hospital.
The majority of Scotland's trainee neurologists will be given placements at the new centre.
It will also deliver training for family doctors, nurses and conduct cutting-edge research into epilepsy.
There are as many as 50 types of epilepsy which is caused by extra electric activity in the brain.
The condition is diagnosed when a person has recurrent seizures.
'Unique care'
Deputy First Minister Nicola Sturgeon who will attend the opening of the centre, which is in her constituency, said: "The William Quarrier Scottish Epilepsy Centre is the first of its kind to offer an enhanced service which will significantly improve quality of life for those living with the condition.
"The centre is a great example of the third sector and NHS Scotland working together to build and deliver world-class services to people with epilepsy, providing a unique care package for patients."
According to Quarriers, more Scots die from epilepsy than of Aids, Hepatitis, Meningitis, Tuberculosis and cot death combined.
The charity said it was estimated that about 42% of these deaths were preventable.
Quarriers chief executive, Paul Moore, said: "Today marks the start of a new chapter in the history of the charity's services for people with epilepsy which have been going for more than a century.
"Future generations of epilepsy patients from across the UK and further afield will also benefit from the research and training that will take place at the William Quarrier Scottish Epilepsy Centre.
"The vision of the charity's founder, William Quarrier, is very much embodied in this new state-of-the-art centre which will truly transform lives."