University studies drug residue pollution in water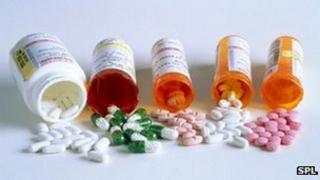 Researchers in Scotland are taking a leading role in a project to reduce pharmaceutical residues in waste water.
The team from Glasgow Caledonian University will look at the disposal of prescription drugs as part of the £7m European Union-funded "noPILLS" scheme.
It will also examine how residues pass through the human body or wash off.
Drug concentrations in water are not thought to be harmful to human health, although concerns remain over possible effects on plant and animal life.
The noPILLS team in Scotland will be led by the university's Dr Ole Pahl.
He said: "The project addresses the need to reduce pharmaceutical and other micro-pollutants in the water cycle.
'Green pharmacy'
"It will investigate whether, and how, pharmaceutical product input may be reduced by raising awareness, encouraging different consumption or prescription practices, and promoting better disposal."
University researcher, Karin Helwig, added: "We want to feed into the public European debate on how much benefit can be achieved by avoiding, reducing or substituting some compounds.
"There is an opportunity to enlighten the public on what consumer behaviour means for the development of waste water treatment costs and biodiversity.
"Over time, this may lead to changing prescription and consumption patterns and start an increased demand for green pharmacy."