People of Arran thank power cut 'heroes' with hampers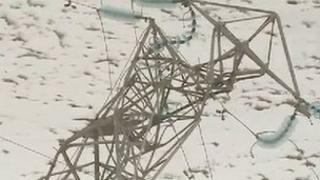 People on Arran are gifting hampers to 150 engineers and contractors who reconnected them after winter storms last month brought down power lines.
Parts of the island, in the Firth of Clyde between Ayrshire and Kintyre, were cut off for up to 10 days.
Tourist agency VisitArran said it wanted to make the gesture to SSE staff who worked in "appalling conditions".
The hamper going to staff and sub-contractors includes local produce such as cheese, oatcakes and whisky.
Heavy snows and icy conditions across the west of Scotland on 22 March brought down power lines and cut off supplies to about 20,000 properties in Ayrshire and Arran, Argyll and Dumfries and Galloway.
'Enormously grateful'
Power firms deployed hundreds of engineers to reconnect customers but this proved difficult with many access roads to downed lines made impassable by drifting snow.
In Arran, 150 SSE engineers and contractors took more than a week to reconnect the worst affected areas.
Kenny Bone, chairman of VisitArran, which represents most of the island's small businesses and traders, said: "We are enormously grateful to the small army of men and women who worked in some pretty appalling conditions to restore power to our homes and workplaces.
"VisitArran decided that on behalf of the community, we had to make a small gesture of thanks to those who helped us through that difficult period.
"Hopefully, as they sample some of the local produce they might be tempted to come back, along with their family and friends, for a more leisurely visit."
Stuart Hogarth, SSE's director of distribution, said everyone at the utility firm was "extremely touched by the generosity of the Arran community".
"One of the lasting memories we will take away from our time on Arran is the wonderful level of community spirit we experienced," he said.
"Once again we would like to extend our thanks to the community on Arran for the warm welcome and support they gave our team and for their ongoing patience whilst we battled to restore power to their homes and businesses."
VisitArran has also extended its gratitude to the many local people, including voluntary groups and search and rescue teams, who helped through the crisis.