Fire breaks out at Beardmore Hotel in Clydebank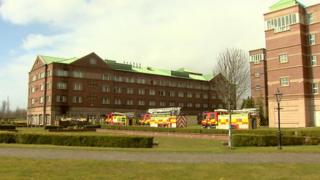 A fire in a sauna has led to the evacuation of a hotel and conference centre used by the NHS in Scotland.
Firefighters were called to the Beardmore Hotel, next to the Golden Jubilee Hospital in Clydebank, West Dunbartonshire, at about 13:30.
Guests were taken to safety while the fire was brought under control. No-one was thought to have been injured.
There has been minor damage within the hotel. The hospital was unaffected. The hotel is expected to reopen shortly.