Kimberley Hainey murder conviction quashed on appeal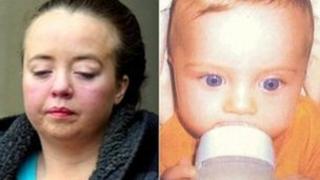 A mother who was jailed for life for murdering her toddler son has had her conviction quashed on appeal.
Kimberley Hainey, 38, was jailed for a minimum of 15 years for killing Declan at their home in Bruce Road, Paisley.
The child's mummified body was found in his cot in March 2010 - eight months after he was last seen alive.
Judges at the Court of Criminal Appeal in Edinburgh have still to rule on her conviction for attempting to pervert the course of justice.
A jury at the High Court in Glasgow found Ms Hainey guilty in December 2011 of murder and neglecting her son.
The murder charge alleged that the heroin addict had abandoning her son for long periods of time without food or drink while she partied, drank and took drugs.
Evidence 'flawed'
Jurors rejected Ms Hainey's claim that she had woken one morning to find Declan dead in his cot and had not reported the tragedy because, as defence QC Edward Targowski explained: "She simply went into a downward spiral".
Following her conviction, Ms Hainey's legal team launched an appeal against her conviction on the grounds that crucial evidence against her was flawed.
Ms Hainey's lawyer questioned claims by expert witnesses called by the Crown, who said that tell-tale marks on Declan's bones were signs of malnutrition.
The case was heard at the Court of Criminal Appeal in Edinburgh by Lord Clarke, sitting with Lords Mackay of Drumadoon and Drummond Young.
At a brief hearing on Wednesday, Lord Clarke announced: "The court has come to the conclusion that the conviction of the appellant (Ms Hainey) of the murder of her baby son, Declan...must be quashed."
Lord Clarke went on to say that during the appeal judges' consideration of the question, issues had arisen which had not been discussed during a hearing in January.
Because of that, the appeal court will hear from lawyers on Thursday before the judges reveal why they have overturned the murder conviction.