Convicted killer Norman Carlton guilty of Stewart Gillespie murder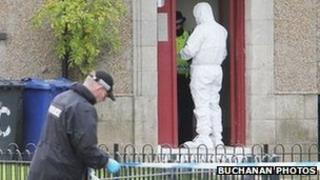 A convicted killer has been found guilty of murdering his ex-girlfriend's father and attempting to murder the woman's ex-partner in Renfrewshire.
Norman Carlton, 28, fatally stabbed 53-year-old Stewart Gillespie - who was a convicted murderer and gangland figure - at a flat in Paisley in October 2012.
He was also found guilty of stabbing 32-year-old Robert Lawther.
Carlton, who was jailed for culpable homicide in 2001, will be sentenced next month.
The trial at the High Court in Glasgow heard how Carlton had lost control after being ignored by his ex-girlfriend Natalie Gillespie, 31, the daughter of his victim.
Previous conviction
He was said to have grabbed Mr Gillespie by the neck and stabbed him to death.
Mr Lawther told the court he had tried to pull Carlton away and was stabbed on the groin and fell to the floor.
Carlton denied the charges and lodged special defences of self defence claiming he was attacked with the knife and fought back with it because he was "scared".
The jury did not believe him, however, and convicted him of murder and attempted murder.
Carlton now faces a mandatory life term when he is sentenced next month.
It emerged after his conviction that the 28-year-old was jailed for eight years in 2001 after he admitted killing Patrick Brady, 34, at a flat in Paisley.
He was originally charged with murdering the father-of-three but the Crown accepted a lesser plea of culpable homicide.
Last year he appeared at Paisley Sheriff Court after terrorising his mother in her home and was made subject to a community payback order with the condition of carrying out 160 hours of unpaid work.
Calrton's victim Stewart Gillespie was jailed in 1996 for the gangland shooting of rival drug dealer Mark Rennie and released in 2010.