Boy, 15, detained over rape bid in Brodie Park, Paisley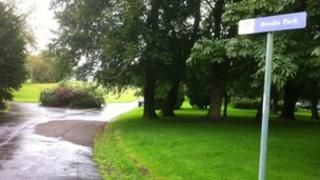 A schoolboy has been detained for three years for assaulting and trying to rape a teenage girl in a Renfrewshire park.
The High Court in Glasgow heard how the boy, then aged 14, had been walking with the girl in Brodie Park, Paisley.
He launched the attack after she declined to have sex with him but was scared off when a man heard the girl's screams and shone a torch towards them.
The boy, now aged 15, admitted a charge of assaulting the girl with intent to rape at the High Court in Glasgow.
The court heard how witness Richard Glen was concerned somebody was being raped in the park and informed his parents.
His mother called the police and his father went outside with him to see what was going on.
'Significant violence'
The court was told that when the torch was shone, a male was on top of a female.
At this point, the boy got up and ran off, while shouting: "Batter me then, I deserve it."
When police arrived, the girl told them her attacker had tried to rape her.
Jailing him, Lord Turnbull told the boy that he had subjected his victim to "a significant level of violence".
"It is you and no one else who behaved in this despicable fashion," the judge said.
Lord Turnbull said the boy may well have continued his attack but for "brave and public spirited local residents".