Kieran Campbell jailed over Charlene McKissock torture attack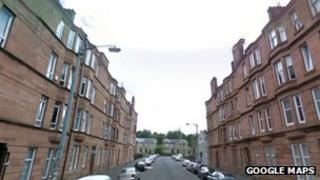 A man has been jailed for carrying out a torture attack on a woman while trying to get information about the man who stabbed his brother.
Kieran Campbell, 28, broke into 32-year-old Charlene McKissock's home in Govanhill, Glasgow, on 30 July 2012.
The High Court in Edinburgh heard that the victim was splashed with boiling water, sprayed with steam from a heated iron and slashed on the face and neck.
Campbell, who admitted the attack, was jailed for six years.
The court heard that in March last year, Campbell's younger brother, Thomas, was the victim of a knife attack which left him needing 48 stitches to his neck and face.
Flat break-in
Campbell started to seek information on where the man allegedly responsible for the attack was.
He learned that the man had previously stayed at Ms McKissock's flat in Daisy Street, Govanhill, and Campbell turned up at her home several times looking for him.
He arrived again in the early hours of 30 July but she ignored him and pretended not be at home.
The victim's front door was then forced open and Campbell came in with two other men.
During her ordeal, Ms McKissock was slashed on the face and neck.
After cutting her neck Campbell told his victim: "One millimetre deeper and it would have been your jugular."
Campbell and the men warned Ms McKissock that her home would be burned down if she informed the police but once they left she called in officers.
Police found her highly distressed and with blood covering her neck and face.
She was taken to hospital for treatment to wounds and blisters and was left with scarring to her face.
'Concerted attack'
Campbell was due to stand trial for the attack but changed his plea to guilty before Ms McKissock went into the witness box.
He admitted breaking into her home and assaulting her to her severe injury and permanent disfigurement.
Jailing him, judge Lord Kinclaven told Campbell: "It was a concerted attack by you and others against a 32-year-old woman in her own house."
The judge said he had seen photographs of the injuries sustained by the victim and told him the fact that he had taken drink and/or drugs was "simply no excuse".
Lord Kinclaven said to Campbell: "There is no alternative to a significant custodial sentence. You present as a high risk of harm."
He also ordered that Campbell, of Clarkston, East Renfrewshire, should be kept under supervision for a further four years after his release.