Owners sought for California quail found in Kilmarnock garden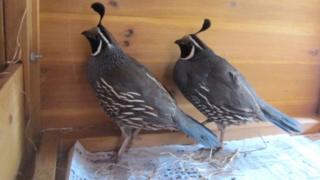 An animal charity believes that two California quail found in a garden in Kilmarnock may have escaped from the home of an owner.
The Scottish SPCA was called in after a family in the town's Glasgow Road spotted the birds on Thursday morning.
The quail were taken to the charity's Ayrshire and south west Scotland rescue centre, where staff have named them Queenie and Quentin.
Anyone who knows the birds owner is asked to contact the Scottish SPCA.
The charity's animal rescue officer, Gavin Law, said: "A family were sitting down to breakfast when they saw the quail land in their back garden. I think they were enticed by bird food left out.
No ID
"After a bit of running around, I managed to usher Queenie and Quentin into the family's greenhouse and safely contain them.
"Although they were reluctant to let me catch them, they do seem quite comfortable around humans, suggesting they have been kept as pets."
Mr Law said the birds did not have any identification tags and it was likely that had "escaped from home".
He added: "They're very unusual birds so we're hoping someone will recognise them. If no-one comes forward, we'll be looking to find Queenie and Quentin a suitable new home."