Three men jailed over Glasgow cemetery heroin raid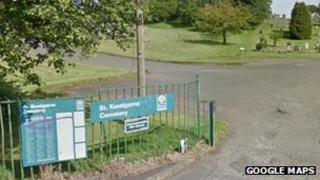 Three men have been jailed after they were caught completing a £350,000 heroin deal in a Glasgow graveyard.
William Reynolds, 49, Steven Callaghan, 53, and Erald Memollari, 25, were held at St Kentigern's Cemetery in October.
All three later admitted being concerned in the supply of heroin.
Reynolds, from Glasgow, was jailed for three-and-a-half years. Callaghan, of Staffordshire, was given eight years. Albanian asylum seeker Memollari was jailed for four-and-a-half years.
The High Court in Glasgow heard how the men had been tracked by officers from the Scottish Crime and Drug Enforcement Agency.
Drugs transfer
Reynolds was seen arriving at the cemetery, near his home in Cadder, and beginning to transfer the drugs.
He was detained after he collected three kilos of the drug from a BMW, where Memollari was a passenger.
Police later found another two kilos of heroin in the BMW.
The court heard how the deal had been arranged by middleman Callaghan, who had been released just months earlier from a jail term for cocaine dealing.
Callaghan was in a white van, which was in convoy with the BMW.
After they were arrested, Memollari told police: "A guy in London gave this to me to bring to Glasgow and he paid me £200."
Jailing the men, judge Lord Turnbull told Memollari: "You acted as a courier for a drug supply organisation which was of such a scale as to supply large quantities of heroin to drug dealers in different parts of the UK.
"You were prepared to travel large distances with heroin with a high commercial value."
Callaghan was told by the judge: "Your position is entirely different. You travelled from London to Glasgow and you travelled separately from the drugs.
"It is obvious you were at a higher level in the enterprise."
This conviction is Callaghan's third for drug trafficking.
In 2008, he was jailed for eight years in Liverpool for dealing in cocaine but was freed in December 2011.