Printer firm OKI to axe 175 jobs at Cumbernauld plant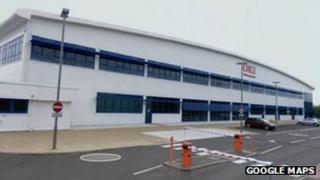 A Japanese firm that makes printers and telecommunications equipment is to axe 175 jobs at its plant in Cumbernauld.
OKI Electric confirmed that it would reduce its workforce at the North Lanarkshire site by about half throughout this year and next.
The company said the move was part of necessary global restructuring aimed at maintaining its competitiveness.
OKI acknowledged that the cuts would be a "significant blow" to staff and the local community.
In a statement, OKI Europe said its parent company OKI Electric had recently announced "essential" restructuring of its global printer division to remain competitive and profitable.
Change of focus
The statement said there would be change of focus on manufacturing at the Cumbernauld site.
It continued: "Sadly, this does mean there would be a reduction in staff across the different divisions currently based in Cumbernauld.
"We estimate this could be in the region of 50% of the total workforce based at this site, impacting approximately 175 staff.
"Most of this reduction is expected to take place in financial year 2013, however this may continue into financial year 2014 for some affected roles."
The statement ended: "We are aware this will be a significant blow to our staff and to the local community in Cumbernauld and as we enter into a period of consultation, our priority is to support affected employees whilst we go through this difficult process therefore no further details can be provided at this time."
'Serious blow'
Jamie Hepburn, SNP MSP for Cumbernauld and Kilsyth, said he was "dismayed" at the level of cuts which appeared to be "out of proportion" with reductions elsewhere in the company.
He said: "The reported 175 redundancies represents 50% of the workforce at the OKI plant in Cumbernauld. This is a serious blow for employment in the area.
"My thoughts go out to every one of those affected and their families. This is news nobody wants to hear.
"I have attempted to make contact with the management at OKI Cumbernauld to discuss this matter and also hope to raise this in parliament next week."
Local Labour MP Gregg McClymont said: "This will clearly be a devastating blow to the workforce and their families.
"Therefore it is vital that we provide them with all the necessary assistance they'll need to find alternative employment and access training.
"I will be meeting with OKI management to discuss their decision and to ask for reassurances that they'll do all they can to assist the workers in this stressful time."
The Scottish government's Finance Secretary John Swinney said: "We are determined to do everything we can to maintain as much of OKI's operation in Cumbernauld.
"Through our agencies Scottish Enterprise and Scottish Development International we have been working with OKI to support the company."