International response to Glasgow rebranding project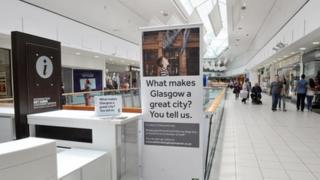 More than 1,500 people from 42 countries around the world have put forward their ideas for a new marketing brand name for Glasgow.
Since 2004, Scotland's largest city has used "Glasgow: Scotland with style".
Last month, Glasgow City Marketing Bureau appealed for suggestions for a new theme to showcase the city in time for the 2014 Commonwealth Games.
The responses are now being reviewed with the aim of launching Glasgow's new brand in July.
Glasgow City Marketing Bureau said responses had been received from across the UK, Europe, the US, Canada, Australia, India and China.
'Strong identity'
Suggestions also came in from Oman, Egypt, Rwanda, Morocco, Brazil, Sri Lanka, Kenya, Hong Kong, Malaysia, Singapore and Kazakhstan.
Glasgow City Council leader Gordon Matheson "The response to the conversation over the past four weeks has been incredible, with contributions coming in from every corner of the globe, and I would like to warmly thank all those who have taken part.
"We've been delighted with the strong variety of suggestions, with everything from poems and personal stories about Glasgow to people all over the world commenting on the city's many attributes.
"We now need to make sure that we capture the spirit, passion and energy of the conversation and translate that into a new brand that delivers a strong, recognisable identity for Glasgow."