Shortfall of £62m for East Ayrshire mining clean-up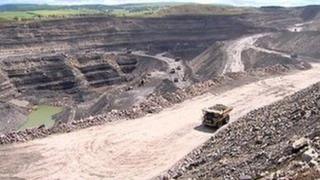 Taxpayers could be left with a bill for as much as £62m for restoring opencast mines in East Ayrshire.
A council report following the collapse of Scottish Coal and Aardvark (TMC) states there is not enough money set aside to pay for remedial work.
The value of bonds put in place to pay for the clear-up is far less than the projected cost of the work.
Campaigners have said they are appalled and accused the council of failing to enforce and monitor its own rules.
Following the financial collapse of both companies, liquidators from KPMG were appointed at Scottish Coal in April and at Aardvark in May.
Restoration bonds
As well as the economic fallout from job losses, East Ayrshire Council has been examining who will have to pay for cleaning up various opencast sites in the area previously operated by the firms.
A report to the council's cabinet on Friday states that KPMG has estimated total restoration costs for the East Ayrshire sites being "in the region of £48m to £90m".
It notes, however, that the potential value of restoration bonds - effectively insurance policies for cleaning up the mines - is about £16.1m for Scottish sites and £11.52m for Aardvark sites.
If the top-end KPMG estimate was correct, this could leave a potential liability of more than £62m for restoring the sites.
The council has appointed consultant mining engineers to draw up their own estimates for remedial work on the mines and report back by June.
The report states that while the estimates for cleaning up the sites may currently "be unreliable, they indicate significant liabilities".
Another potential complication, the report points out, is that "there is currently no certainty with regard to the extent that bond providers will honour the bond obligations".
East Ayrshire Council leader Douglas Reid said the coal companies had "reneged on their responsibilities" to clean up behind themselves and restore the land.
"The coal operators have failed to live up to their responsibilities and East Ayrshire Council will leave no stone unturned in minimising the effect of this situation on our communities and on the council itself," he said.
"I welcome the chief executive's proposal to independently review all of the procedures around the management, determination, implementation and monitoring of the planning processes in relation to opencast coal operations within East Ayrshire."
'Restoration bombshell'
He added: "We must, however, never lose sight of the fact that it was the responsibility of the coal companies to clean up behind themselves and restore their land - they didn't do this and they have reneged on their responsibilities to our communities."
Councillor Reid said East Ayrshire would now work with other councils affected - South Lanarkshire, North Lanarkshire and Midlothian - to prevent the mining sites from being abandoned.
The anti-coal campaign group Coal Action Scotland, however, said East Ayrshire Council must take its share of the blame for the liabilities which may be dumped on the taxpayer.
Spokesman Oliver Munnion said: "The restoration bombshell has finally been dropped - in East Ayrshire alone the shortfall could be up to £60m.
"What about South Lanarkshire, North Lanarkshire, Fife and other areas? We're looking at a £100m bill that will be dumped on the public purse.
"The mining companies have failed in their statutory obligations, but local authorities should have been enforcing the planning rules, and in this they have failed tragically. East Ayrshire Council are to blame as well as Scottish Coal and ATH Resources (Aardvark)."
RSPB Scotland has called for a full investigation.
Aedan Smith, the charity's head of planning, said: "Our immediate priority is to work with the industry, local authorities and the Scottish government to ensure that this does not result in a legacy of environmental degradation which is bad for wildlife and local communities.
"Some of these sites are in internationally-important wildlife sites and were only allowed to progress if full restoration would be delivered."