SNP councillor Bill Holman guilty of 'kerb crawling'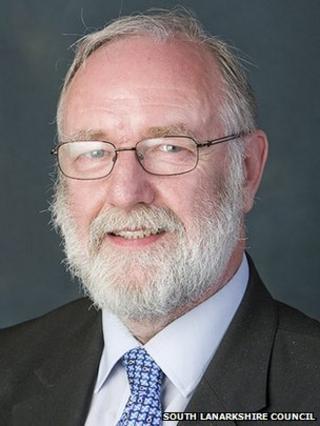 A South Lanarkshire councillor has been convicted of looking for a prostitute in Glasgow's red light area.
Bill Holman, 65, claimed he had travelled from the city's west end where he had no phone signal, to check texts and email on 20 December 2012.
He was convicted and fined £250 at Glasgow's Justice of the Peace Court.
The SNP member for Avondale and Stonehouse had earlier told the court he would have to "consider his position" as a councillor if convicted.
The court heard from PC Claire McKenzie who was patrolling the red light area in Glasgow on Oswald Street and Argyle Street when they saw Holman's car.
Looking around
PC McKenzie said Holman stopped at a red light and was looking around "quite vigorously" at about 23:35.
The constable also said he took a few more seconds than would be expected to move off from the lights when they changed to green.
She told the court they later saw Holman again around 00:10 parked on Argyle Street and drove past him but returned a few minutes later to see him still in the same spot.
The officer said her colleague asked Holman to come and talk with them in the back of their car and he was questioned under caution.
He told them: "I stopped to check my phone. I had been in Tennent's on Byres Road with friends and didn't have a signal."
The councillor told the officers he left the pub about 23:15 to 23:30 and that he was checking text messages and emails.
When asked why he came to the spot they saw him at, he said: "I could have gone to the south side but I decided to come here. I thought I would take a different way home."
'Consider position'
They told him they had seen his car earlier on another street and had watched him at the traffic lights.
Holman was asked if he was looking for a prostitute and he said he was not.
Mr Buchanan asked what procedure was carried out and PC McKenzie said: "He was informed he was being arrested for kerb crawling."
In his evidence Holman, a retired town planner, said he would have to "consider his position" as a councillor in South Lanarkshire if convicted of the offence.
He told the court he had got a new Smartphone and still had not fully got the hang of working it but had it with him to keep in contact with his wife, who has Multiple Sclerosis.
Holman said that on the day of the offence his daughter was looking in on his wife while he was out with friends and he had his phone on him so they could reach him if they needed to but that he did not hear from anyone when he was out.
Changed mind
He claimed he dropped a friend home in Kelvingrove when he left the pub.
Holman told his lawyer, Derek Smith, he intended on taking the M74 motorway - a new stretch of road - but that when he got to the Broomielaw he decided to turn back and go on the M8 motorway.
The court heard that he then parked and tried to get his phone to work and messages started coming through, but nothing from his daughter about his wife.
Holman said: "Clearly having no messages that required me to rush I was in no desperate rush, I would just have finished reading the messages."
It was put to him by Mr Buchanan: "To be blunt, the true explanation is you were cruising round that area looking for a prostitute." He replied: "No."