Glasgow parade to mark Scots Guards homecoming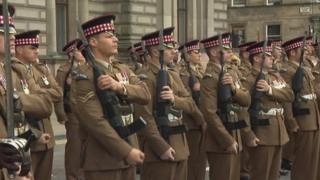 People have lined the streets of Glasgow to welcome troops from 1st Battalion Scots Guards home from Afghanistan.
About 250 soldiers marched through the city centre to celebrate their return from a six-month tour of duty.
They were deployed to the Upper Gereshk Valley in Helmand Province.
It was the first time the guards have paraded through Glasgow since 1977 and many well-wishers turned out to support them.
Commanding officer Lieutenant Colonel Rob Howieson said: "It is a great honour to be marching through the streets of Glasgow.
"The Guardsmen are very proud of their work and they are humbled to be able to parade in front of the people of Glasgow.
"The battalion has had a challenging six months in Afghanistan and today's parade recognises its achievements."
He added: "It also gives friends and families the opportunity to celebrate their safe return and accomplishments of the last few months."
The battalion is based at Catterick, North Yorkshire, but its main recruiting ground remains in Scotland.
The troops have already paraded through the streets of Edinburgh - where they were granted the freedom of the city - and Inverness as part of their homecoming celebrations.