Ex-Scout leader Henry Calder jailed for abusing boys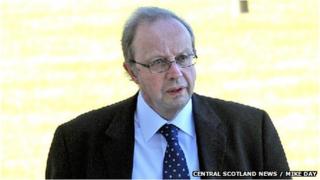 A former Scout leader who downloaded indecent images of children and filmed young boys having "chocolate baths" has been jailed for three years.
Henry Calder, 60, pleaded guilty to five charges of lewd and libidinous practices and behaviour at Scout camps in Glasgow and Fife from 1982 to 1991.
He also admitted downloading 140,201 indecent images and 4,870 moving images of children between 2004 and 2012.
The baths involved children standing in a sink pouring chocolate on each other.
Jailing him at the High Court in Livingston, judge Lord Turnbull told Calder: "It is perfectly clear that you took advantage of your position as a scoutmaster to indulge in your pleasure for young boys.
'Abuse of trust'
"It was sexual abuse of children by an adult for your own sexual gratification.
"Conduct like this brings the otherwise great work by the Scouting movement into disrepute. It is an abuse of the trust placed in you by the parents and of the trust placed in you by the boys."
An earlier court hearing was told how Calder, who worked for East Dunbartonshire Council until he retired in 2010, had been caught during Operation Alba - a police project targeting online sexual abuse of children.
The operation uncovered a particular IP address allocated to Calder which was responsible for downloading indecent images of children.
A subsequent search of his home in Kirkintilloch, East Dunbartonshire, uncovered thousands of indecent images.
Police also seized a sizable quantity of VHS and Betamax video tapes, 8mm tapes and discs.
Calder's voice could be heard on the tapes, which were taken at Scout camps in the 1980s and 1990s, and he could also be seen interacting with boys.
A significant quantity of the footage showed boys variously in a state of undress or naked in a large Belfast sink and pouring chocolate over each other. These were referred to as "chocolate baths".
Calder, who was a leader in the Scout Association for about 40 years, admitted five charges of lewd and libidinous practices and behaviour at Auchengillan Outdoor Centre, Blanefield, Glasgow, and Fordell Firs National Scout Activity Centre, near Dunfermline.
'Vile records'
Referring to Calder's stash of indecent images, Lord Turnbull said: "A collection of indecent images like this is quite shocking, and you were quite proud of and interested in your collection of photos, taking time to file and sort your images accordingly.
"These are vile records of actual sexual abuse of children by adults.
"These were recorded so men with interests like yours can take pleasure in observing the abuse of young and vulnerable children, and people like you must take their share of responsibility."
In a statement, the Clyde Regional Scout Council said: "Calder was suspended from the movement as soon as we were made aware of the allegations against him and his membership was terminated following his appearance at court in May.
"There is no place in a youth movement for a person like Calder and we condemn his actions unreservedly."