Ryan Lafferty admits brutal rape of teenager in Glasgow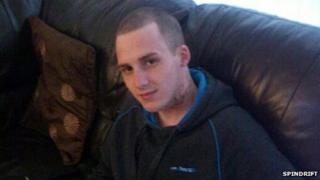 A man has admitted brutally raping a teenage student in Glasgow's west end.
Ryan Lafferty, from Millerston, subjected the 19-year-old woman to a horrific attack in Lilybank Gardens, near Ashton Lane, on 19 May 2012.
The High Court in Glasgow heard how the 23-year-old grabbed his victim from behind, before repeatedly punching and dragging her along the ground.
Lafferty was remanded in custody and sentence was deferred. He was also placed on the sex offenders register.
The court heard how Lafferty pounced on his victim as she walked along Lilybank Gardens at about 01:50.
'Struggled and screamed'
Prosecutor Neil Beardmore said: "The accused grabbed her from behind, with an arm round her neck and another around her waist. She struggled and screamed and was pushed to the ground."
Lafferty then crouched over the terrified woman and repeatedly punched her. When she stopped screaming he stopped punching her.
He then dragged her across to a set of steps, told her to lie down and sexually abused her.
The terrified woman begged Lafferty not to do this and began screaming again.
The 23-year-old punched her several times on the face until she stopped screaming and then forced her to perform a sex act on him.
At one point the woman was able to shout for help and Lafferty grabbed her hair and tried to drag her down the steps.
Two passers-by went to her aid and found the victim to be so distressed that she was hyperventilating.
Mr Beardmore added: "The woman had her underwear at her knees. The police and ambulance were called."
The court heard that Lafferty made his way home and explained away scratches to his face by telling his girlfriend that he had been in a fight.
His victim was treated in hospital for bruising to her forehead, left eye, cheek and shoulder.
Helped by students
The court was told that unemployed Lafferty had been thrown out of Glasgow University's Queen Margaret Students Union for making a nuisance of himself.
Shortly before the rape he was seen collapsed through alcohol in a doorway in Lilybank Gardens.
Lafferty, who gave his name to medical students who tended to him, later emerged as a suspect during the police investigation.
The medical students called a taxi for him, but Lafferty wandered off and minutes later carried out the sex attack.
CCTV footage showed him hiding behind a van as the woman walked along Lilybank Gardens before following her.
The court heard that the clothes he wore that night were seized. Analysis of his jeans and boxer shorts revealed a partial profile of his victim's DNA.
The court heard that his victim still suffers nightmares and has difficulty sleeping.