Thomas McLeish and Reiss Crawford jailed for Jamie Sewell murder bid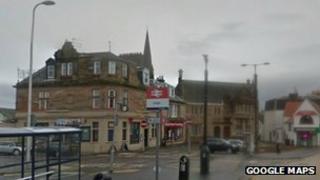 Two men who left a teenager with brain damage after stamping on him during an unprovoked attack in North Ayrshire have been jailed for attempted murder.
Thomas McLeish, 25, and Reiss Crawford, 18, admitted carrying out the brutal attack on 17-year-old Jamie Sewell in Main Street, Largs, on 18 October 2012.
McLeish, who had previous convictions for violence, was jailed for nine years at the High Court in Livingston.
First offender Crawford was given seven years detention.
The court heard how the pair attacked the teenager as he waited for a bus before cornering him in a shop doorway, where they repeatedly jumped and stamped on his head.
'Life-threatening injuries'
The pair then attempted to leave the scene but were stopped by onlookers.
Paramedics found Mr Sewell unconscious with blood around his nose and mouth.
He spent a month in hospital being treated for swelling on the brain, which doctors described as "life threatening".
The court was told that the victim now suffered significant memory problems and could not recognise people he knew.
His therapist Tamsin Duff said Mr Sewell and his family were likely to need help and support for the foreseeable future and he would struggle to find a job or live with any degree of independence.
McLeish and Crawford, both from Glengarnock, admitted taking a cocktail of alcohol and valium on the day of the attack and claimed they remembered nothing about the incident.
Jailing them, judge Lord Turnbull told the pair that their "despicable" assault had resulted in overwhelming consequences for Mr Sewell and his family.
He said: "In such circumstances people will search for reasons or for explanations based upon the reasonable assumption that there must have been a cause for what transpired.
"In truth, however, the cause was no more than your intoxicated condition and your violent natures.
"The utterly random selection of your victim serves to emphasise the extent to which your conduct was so divorced from acceptable standards of humanity and co-existence.
"There is no place in our society for people who conduct themselves as you did."