Sharkey fire deaths: Accused 'made burn-out threat'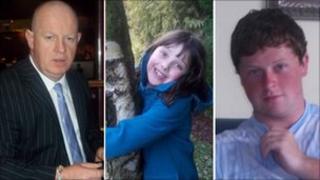 A man accused of murdering a father and his two children in a Helensburgh house fire threatened to have Thomas Sharkey burned out, a court has heard.
Colin Hughes, 49, told the High Court in Glasgow that Scott Snowden said: "I'll wait till I'm away somewhere."
He said the accused had told him that he would see if he could get "Rab" to burn him out.
Mr Snowden and Robert Jennings deny murdering Mr Sharkey and his two children by setting fire to their home.
Thomas Sharkey Jnr, 21, and his sister, Bridget, eight, died in the blaze at their home in Scott Court, Helensburgh. Their father, Thomas Snr, 55, died in hospital days later.
Both accused also face a charge of attempting to murder Mr Sharkey's wife, Angela, 48, who survived the fire on 24 July 2011.
Pub conversation
Mr Hughes, a joiner, was giving evidence for a second day at the trial.
The witness said that Mr Snowden said he could get Thomas Sharkey Snr burned out.
He was asked by prosecutor Alex Prentice QC: "Did Mr Snowden say anything about who might do this," and he replied: "He said: 'I'll see if I can get Rab to burn him out while I'm away' or words to that effect."
The court heard that the conversation with Mr Snowden took place in the Argyle Bar in Helensburgh.
Mr Hughes said that there was mention of the fact that Mr Sharkey had been stabbed in the back by his cousin, Mark Sharkey.
Mr Hughes said that Mr Snowden told him that he could get him "burned out now and big daft Mark will get the blame of it".
The jury was told that following the fatal fire Mr Hughes was questioned by police for eight hours and afterwards Mr Snowden asked him what they detectives had asked him.
Mr Hughes said: "I said I was asked if I knew him, if I knew Rab, if I knew anything about the fire."
Mr Prentice asked if Mr Snowden had then said anything and Mr Hughes replied: "Keep your mouth shut, don't say a word. They'll forget about it in about a month."
Earlier in evidence Mr Hughes told the jury that Mr Snowden had told him he wanted to get Thomas Sharkey done in and talked of doing this at a high profile charity football dinner in Helensburgh.
Accused 'obsessed'
He said that Mr Snowden wanted Mr Sharkey shot or stabbed at the event in the Victoria Halls, Helensburgh, on 16 April 2011 and added: "Scott was obsessed with him. He hated him. He said he would get him done in."
Prosecutor Alex Prentice QC asked: "Did he ever say how," and Mr Hughes replied: "At the football dinner."
Mr Prentice then said: "Did he say how he would get him done," and Mr Hughes replied: "He said 'I'll get him shot or stabbed. I'll do something'."
The court heard that the charity event, which was organised by Thomas Sharkey, involved high profile football personalities as speakers and was a success with more than 1,000 people attending.
The jury heard that the event passed without incident.
During cross-examination, Donald Findlay QC, representing Mr Snowden, asked if what Mr Hughes, who is distantly related to the late Mr Sharkey, had said was true: "What kind of man doesn't try to get a word of warning to someone who he was distantly related to."
Mr Hughes replied: "A man that was scared. I'd be next. He would have known where it came from."
The court heard that Mr Hughes gave 23 statements to police.
Mr Findlay said: "You're just making it up as you go along," and Mr Hughes said: "No."
The QC then said: "Why is there such a difference between the account you first gave to the police and what you said in court today," and Mr Hughes replied: "I don't know."
Mr Snowden, 37, and Mr Jennings, 50, have lodged special defences of incrimination and alibi, with Mr Snowden claiming he was in Mexico when the fire at the Sharkey home was allegedly started, while Mr Jennings claims he was home alone in Helensburgh.
The trial before Lord Matthews continues.