Man hurt in daytime attack at pond in Glasgow's west end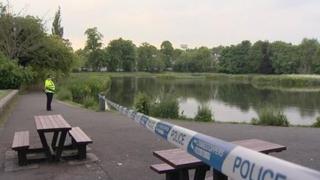 A man is being treated in hospital after being attacked at a pond in the west end of Glasgow.
Police were called to Bingham's pond near Gartnavel Hospital just before 16:00 after reports of two men involved in a disturbance in the water.
An eyewitness said a passerby went to the aid of the victim, who was taken to hospital.
Police then went into the water to detain his apparent attacker, who was also taken to hospital.
Details of the men's condition have not been released.
Police are carrying out an investigation into the incident, and a police cordon has been set up.