Koh-I-Noor damage: Glasgow Council loses £170,000 appeal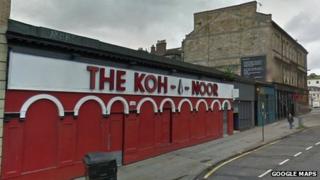 Scotland's largest council has been told it must pay £175,000 over damage to an Indian restaurant 17 years ago.
Glasgow City Council denied liability after part of a wall from a demolished tenement fell on the Koh-I-Noor, in North Street, during a storm in 1996.
The authority challenged a previous ruling at the Court of Session that it had failed in its duty of care to secure the remaining brickwork.
Three appeal judges have now turned down the council's appeal.
The court heard that in 1994, the curry house, owned by K2 Restaurants Limited, was part of a four-storey tenement building on North Street.
Demolition order
The council subsequently served the owners of the building, Greenford Properties and restaurant owner Rusal Tahir, with notices to carry out essential works or demolish it from the first floor upwards.
After the works were not carried out, the council contracted with CMI Demolition to bring down part of the structure.
The demolition work, started in July 2006, removed a number of flats above the restaurant, which was to have a new roof.
It also exposed what had formerly been an internal division wall, which now became an outer gable.
The division wall contained chimney flues and was topped by coping stones and a chimney head.
The court heard that in November 1996, some brickwork from the division wall and chimney flues, were blown down in storm, and came through the roof of the restaurant.
Owners of the Koh-I-Noor subsequently raised a damages action which was heard at the Court of Session in Edinburgh.
Tying-in works
The court heard that as part of the demolition contract the council's then director of building control, Ian Taylor, had "decided to delete the tying-in works to the exposed wall from the contract, thus reducing the contract sum by about £12,000".
In her ruling, temporary judge Morag Wise QC said the council was liable for damages as, having initiated the demolition, it had failed in its duty of care to properly secure the remaining brickwork.
The council appeal against the ruling has now been rejected by Lord Brodie, Lady Smith and Lord Menzies.
In the ruling, they said that judge Wise "was fully entitled to find" that the council was under "a common law duty of care" to see that "the demolition works were planned, executed and completed in a manner which did not cause a danger of damages to the pursuers' premises".
The judges also noted that the council was "under a duty to take reasonable care to see that the newly exposed gable wall and chimney head of the demolished building and the neighbouring building were not left in a state in which they were liable to collapse".
A council spokesman said: "We are aware of the decision and are considering our position in terms of an appeal."