Tourist boat sank on Loch Lomond after list of failures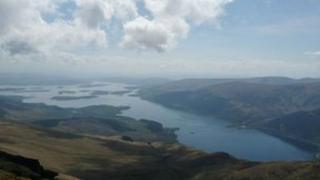 A tourist boat that sank on Loch Lomond causing five passengers to jump into the water was in "poor condition".
A Marine Accident Investigation Branch (Maib) report found a series of failings in the condition of the boat and its operation.
The Vixen sank in September last year as it crossed the loch near Ardlui marina while carrying six passengers and a skipper.
There were no injuries and no pollution caused by the ferry.
Five of the six passengers put on lifejackets and jumped out of the boat as it started sinking 50m from shore.
One passenger, who said she was a weak swimmer, was not provided with a lifejacket and remained on board with the skipper.
The pair were dragged underwater as the boat sank, but managed to swim back to the surface.
Some of the passengers swam ashore while the remainder, and the skipper, were rescued by a member of the public who was in another boat nearby.
The Maib found that the weed hatch, a lid that allows access to the propeller, had corroded allowing water to flood in.
The report said: "The Vixen was in poor condition. The weed hatch was not watertight and was too close to the waterline - the boat was therefore overloaded.
"There was no specified limit for the maximum number of passengers that could be carried safely.
"The bilge alarm, which should have warned that the boat was flooding, had been disabled."
The investigation also found that some of the lifejackets were not accessible in the emergency, and none had the recommended minimum buoyancy.
Boat qualifications
It went on: "Vixen was being operated contrary to the legal requirements of the Maritime and Coastguard Agency, the Argyll and Bute Council and the Loch Lomond and Trossachs National Park Authority."
It also said the operators had previously been issued with a prohibition notice by the Maritime and Coastguard Agency because it found that the skippers did not have the correct qualifications.
The Maib said the operators of the Vixen had removed it from service and bought a replacement, and its skippers were training for powerboat qualifications.
Transport Scotland has also been recommended to encourage all councils to introduce boat hire licensing systems.