Cardiac services at Yorkhill improve but 'concerns' remain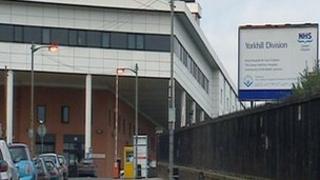 Care for children with heart defects has improved in Scotland but problems remain, according to a new report.
Scotland's only specialist children's cardiac service is based at Glasgow's Sick Children's Hospital at Yorkhill.
Last year an independent panel said they could be "unsafe" if critical staffing problems were not addressed.
Watchdog Healthcare Improvement Scotland said some issues had now been resolved but it was still concerned no heart surgeon was on duty overnight.
It recommended the children's service should be combined with adult services at the new South Glasgow Hospitals Campus - at the Southern General hospital site - when it opens in 2015.
A self-evaluation of cardiac services at the Sick Children's Hospital was carried out in late 2011 by clinicians and managers. This was measured against the NHS in England's "Safe and Sustainable" standards of care.
As part of the same process, an independent panel of experts was asked by the National Services Division (NSD) to assess this self-evaluation.
'Strongly supportive'
Following the publication of the panel's report, NHS Greater Glasgow and Clyde said an action plan was being put in place to address areas for improvement.
Healthcare Improvement Scotland was asked to conduct a follow-up review of children's cardiac services to ensure improvements have taken place.
It found staffing issues were being addressed, but some problems still existed.
The report said: "We still have some concerns about out-of-hours cover for cardiac surgery.
"There are now more cardiac liaison nurses in post, although we felt that further development and resourcing of this role could be beneficial.
"Plans were in place to recruit a dedicated clinical psychologist, but had not yet been realised."
The follow-up review found patients and their families were "strongly supportive" of the care they received at Yorkhill Hospital.
It also said team working between senior team members within the hospital has improved, and the service now has a stronger relationship with NSD.
Person-centred
Healthcare Improvement Scotland made a number of recommendations to further improve cardiac care.
These included demonstrating "robust strategies" were in place to reduce risks when there is no on-site cardiac surgeon presence in the hospital overnight, "including working with other surgical centres across the UK to develop a surgical assistant role to perform emergency surgical procedures".
The watchdog also recommended NHSGGC ensure the clinical psychologist dedicated to the paediatric cardiac service is in post within the next 3 months.
The report said the health board should work with other agencies to ensure "as much care and treatment as possible is provided close to the child's home".
Healthcare Improvement Scotland also looked at wider cardiac services and said "the entire life pathway of a child born with a congenital heart defect needs to be considered if the service is to be person-centred".
The review team said there were clear clinical and patient benefits from combining paediatric and adult cardiac services.
It recommended combining children and adult congenital cardiac services at the new South Glasgow Hospitals Campus in 2015.
Health Secretary Alex Neil said he would ask for work to be done to "assess the implications of combining paediatric and adult cardiac national services so we can fully consider this option".
He added: "This independent report shows that the children's heart service in Glasgow remains safe and highlights that a wide range of improvements have been made.
"This is important progress, but there are also some recommendations that indicate more work must be done to strengthen resilience and improve safety even further."
Kevin Hill, director of women and children's services at NHSGGC, said: "We are pleased to note that HIS have recognised the action taken to improve the care given to children and young people with congenital heart disorder.
"We continue to work with staff and patients and their families to further develop protocols to meet patients' needs and will now develop an improvement plan in collaboration with National Services Division to address the further recommendations made by HIS."