Talks over extending medics hours at Southern General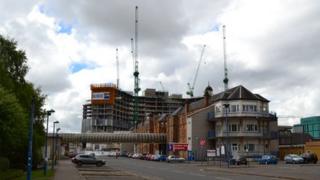 Talks are taking place to have the new Southern General Hospital in Glasgow fully operational seven days a week when it opens in 2015.
NHS Greater Glasgow and Clyde (GGC) is pursuing the change due to increasing evidence that hospital death rates are higher when services are reduced.
Some doctors have warned, however, that supermarket-style opening hours may not be feasible.
They say all departments would suffer from a budget spread too thinly.
The existing Southern General is always open for emergencies, but other specialist departments only offer a full service on weekdays.
Study results
Recent studies have suggested that patients are more likely to die if they are admitted to hospital over a weekend or holiday period.
In 2011, research company Dr Foster found evidence for a "worrying" 10% spike in deaths compared with weekdays across 147 hospital trusts in England.
Last year, a study published in the Journal of the Royal Society of Medicine found that patients were 16% more likely to die if they were admitted on a Sunday than mid-week.
In May this year, a British Medical Journal report suggested that people who have surgery towards the end of the week are more likely to die than those who have procedures earlier on
NHS GGC has now entered discussions to change the working hours of staff at the new Southern General to ensure more specialists are available seven days a week.
In an interview with The Herald newspaper, NHS GGC chief executive Robert Calderwood said most consultants were still on call from home outside core weekday hours.
He said that when the new Southern General opened, some staff - including surgeons, orthopaedic and trauma specialists - should be available on site between 08:00 and 22:00 every day.
The British Medical Association said that while all doctors accept that medicine is not a nine-to-five job, the delivery of extended hours during a time of budget pressure is likely to be unaffordable.