Closure of Gregory's Girl school Abronhill High is approved by ministers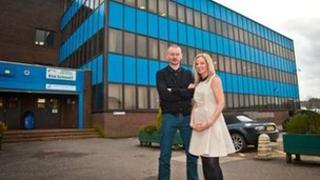 Scottish ministers have backed a controversial decision to close a secondary school which was immortalised in Bill Forsyth's film Gregory's Girl.
In February, North Lanarkshire Council approved the plans to close Abronhill High in 2014 and transfer pupils to Cumbernauld High.
Ministers called in the decision amid concerns it may be bad for pupils.
Following a review, they have now concluded that the council's proposals are reasonable.
Councillor Jim Logue, convener of learning and leisure services, said: "I welcome the Scottish government's decision and I am delighted that their review has found that our proposals will provide immediate educational benefits from merging the two schools.
Local opposition
"I have sympathy for parents and pupils involved who have expressed concerns about the impact of these changes.
"However, I would like to reassure them that we have considerable experience in successfully managing transitional arrangements."
After voting to close Abronhill, the council said the decision aimed to address the falling school roll and achieve annual savings of £1.3m.
However, there was widespread opposition from the local community, prompting ministers to review the decision.
The Scottish government informed the authority in March that it had concerns that the educational benefit of the proposed closure and merger move may "lack clarity".
Mr Logue said at the time that he believed the government's intervention was politically driven.
Following the review, ministers have given the go-ahead to the closure, subject to certain conditions and assurances on funding, the timetable for change and pupil safety issues.
Mr Logue added: "I must question why it has taken the Scottish government so long to make their decision and why they waited until the day after the last day of term to publish their report."
Jamie Hepburn, SNP MSP for Cumbernauld and Kilsyth, said he was "disappointed" by the Scottish government's decision and would write to North Lanarkshire Council asking it to reconsider the closure.
'Unpopular decision'
"I am fully aware how upset both parents and pupils of Abronhill High and the wider community will be by this latest announcement," he said.
"Ultimately, though, this decision is still one taken by North Lanarkshire Council and it is still within their power and remit to reverse this unpopular proposal and better serve the community of Abronhill by ensuring that the school remains open."
Many of the exterior scenes for Gregory's Girl were filmed outside Abronhill High.
The film starred John Gordon Sinclair as Gregory, Dee Hepburn as Dorothy and Clare Grogan as Susan.