New Legionnaires' cases linked to Renfrew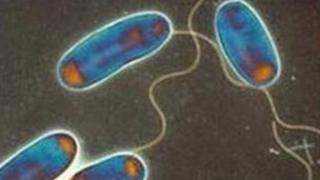 Two further cases of Legionnaires' Disease are being investigated by NHS Greater Glasgow and Clyde.
Three people received treatment for the infection last week. Two have been discharged and one remains in a stable condition in hospital.
The health board said all five cases were linked to the Renfrew area and efforts were being made to find a cause for the illness.
The investigation includes an examination of water cooling towers.
To prevent more cases, water in the towers was also being treated with chemicals to kill Legionaella bacteria.
Towers being targeted are within three miles (6km) of the homes involved in two of the cases.
Renfrewshire Council, the Health and Safety Executive and Health Protection Scotland are involved in the probe.
Dr Gillian Penrice, NHS Greater Glasgow and Clyde's consultant in public health, said the two new patients were responding well to treatment.
Air conditioning
She added: "So far, Renfrew appears to be the only common factor that we have identified between the cases.
"As such, we are focusing our further investigations in this area for any possible sources of the disease.
"Two of the five cases live in the Renfrew area and the other three cases have either visited or worked there during the two-week incubation period of the disease."
Dr Penrice said the bacteria was not spread from person to person, but through aerosols produced from water, such as water cooling towers, air conditioning and showers.
She said: "Legionella cannot be contracted by drinking contaminated water and residents in the Renfrew area should continue to drink water and prepare food in the normal way."
The symptoms and signs include headache, fever, dry cough, breathing difficulties, stomach pains and diarrhoea. Anyone with these symptoms is urged to contact NHS 24 or their own GP.